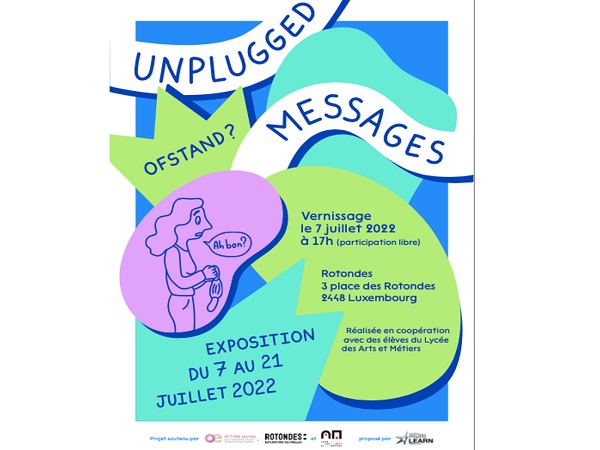 Credit: Luxembourg multi-LEARN Institute asbl
Luxembourg multi-LEARN Institute asbl has announced that its exhibition "Unplugged messages: Ofstand?" will be on display at Rotondes in Luxembourg-Bonnevoie from Thursday 7 to Thursday 21 July 2022.
The exhibition displays the results of workshops led by Luxembourg multi-LEARN Institute on the topic of COVID-19, in collaboration with pupils from Lycée des Arts et Métiers. The works are printed out on vinyl in big formats and displayed on the exterior walls of Rotondes. The exhibition will be visible from the bus stop.
"Unplugged messages: Ofstand?" is an initiative of the project "Unplugged messages (Stay connected to yourself and others during and beyond the pandemic)". It responds to the thematic field 3 (Role of the media around the COVID-19 pandemic) of the call "ACTiON Jeunes - bien vivre la pandemie" of the Œuvre Nationale de Secours Grande-Duchesse Charlotte. The project invites young people aged twelve to 27 to choose messages broadcasted in the media during the pandemic (since 2020) and then recreate them with a view to proposing an "unplugged" vision rooted in living together in the Grand Duchy. The exhibition brings together works produced by Lycée des Arts et Métiers pupils during four workshops conducted under the guidance of four professionals. The exhibition is designed by Bérénice Vialard and Sarah de Oliveira, fourth-year students at the Haute École des Arts du Rhin (HEAR).
The participatory opening of this exhibition will take place on Thursday 7 July 2022 at 17:00, in the presence of some of the young people whose works are at the origin of "Unplugged messages: Ofstand?".