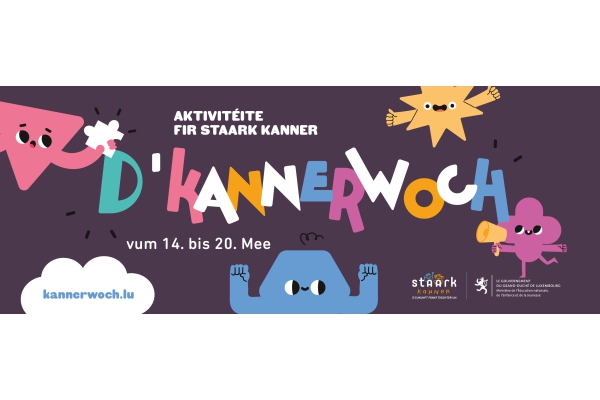 Credit: MENEJ
Luxembourg's Ministry of Education, Children and Youth has announced several events taking place during the Children's Week from Saturday 14 to Friday 20 May 2022.
During these days, the non-formal education sector (crèches, mini-crèches, "maisons relais" (childminding services), "foyers scolaires" (after-school childcare) and parental assistants) through numerous events at national and local level will show the general public the educational work carried out every day in its structures.
According to the Education Ministry, non-formal education plays an essential role in the overall development of the child. It aims to develop essential skills: their language and motor development, social skills, creativity, technical skills and ability to get involved in participatory processes.
A Children's Festival on 14 and 15 May from 10:00 to 18:00
Children's Week will be launched by a Children's Festival, taking place on Saturday 14 and Sunday 15 May 2022 at the Neumünster Cultural Meeting Centre. About 30 workshops will welcome children to play, create, discover, research or investigate and show that lessons emerge through play.
The public can thus familiarise themselves, in a fun way, with the fields of action of non-formal education implemented in crèches, maisons relais, foyers scolaires and with parental assistants.
The detailed programme and the map of the children's festival is available online via: www.kannerwoch.lu.
Meet the education and reception structures from 14 to 20 May
Parents are invited to join crèches, mini-crèches, maisons relais, foyers scolaires and with parental assistants to know more about the activities with and for children in the day-to-day education and reception structures. Workshops around various themes, open houses or instructive receptions are also offered during these days.
Some activities are aimed at future parents, so that they can familiarise themselves with the learning induced by non-formal education and realise how it respects the individuality of each child and contributes to their overall education.
The detailed programme of activities in the 100 participating structures is available online via: www.kannerwoch.lu.