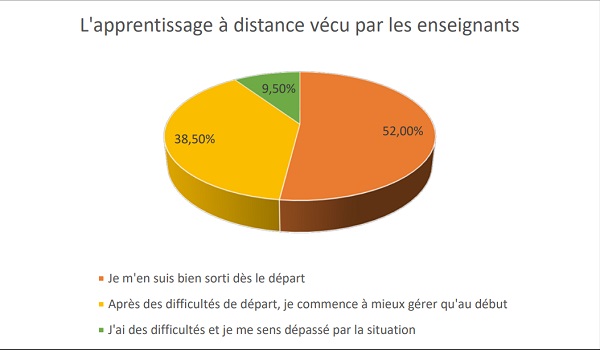 Credit: MENEJ
On 30 March 2020, Luxembourg's Ministry of National Education, Children and Youth launched a survey of teachers and parents of students to gather feedback on distance learning, which has been in place since schools closed on 16 March.
The questions asked in this survey were related to the challenges linked to this unprecedented situation, the organisation of home learning and support offered to students.
In two days, more than 17,000 people, including 4,265 teachers and 12,945 parents, participated in the survey. The results showed that a large majority of teachers and parents have come to terms with distance teaching and learning and are managing this well. 90% of the teachers and who responded to the survey said that they had mastered the challenge posed by this new learning situation. Similarly, 87% of parents who responded to the survey claimed to have mastered this challenge.
On the other hand, 13% of parents said they were having difficulties, namely a lack of time (50%) or knowledge (33%), followed by a lack of computer equipment (9%) and a lack of information (8%).
According to the survey, students work an average of 3.60 hours a day, with parents investing an average of 2.30 hours a day to support them in this learning.
The Education Ministry added that the current situation has triggered a real dynamic in the efforts to digitise learning. The vast majority of teachers are using digital tools to communicate with their students and with parents during the school closure. According to the teachers' responses, more than 90% use email or digital platforms.
Furthermore, most teachers (56%) said they were working together to exchange experiences and organise distance learning in the best possible conditions.
Teachers and parents made over 7,000 comments and suggestions through the open questions in the survey. The ministry has assured that this feedback will be taken into account in the planning of the coming weeks.