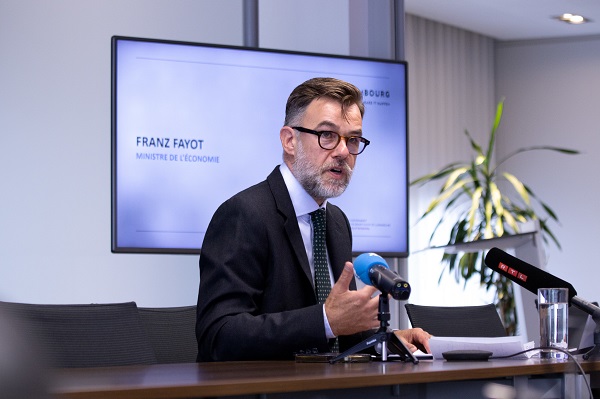 Franz Fayot, Luxembourg's Minister of the Economy; Credit: MECO
During a press conference on Friday 1 September 2023, Franz Fayot, Luxembourg's Minister of the Economy, presented the results of his work as minister over the past three years.
Minister Fayot noted that, since taking office in February 2020, the Luxembourg economy has faced significant challenges related to the COVID-19 pandemic and the subsequent economic restrictions. He recalled that Luxembourg implemented various support measures, including a "stabilisation programme" and "Neistart Lëtzebuerg", to mitigate the impact on the labour market and the economy.
Economic support during the COVID-19 pandemic

To help companies facing temporary difficulties due to the pandemic, the government introduced measures such as partial unemployment, which helped preserve jobs. Approximately €1.2 billion was allocated as advances to companies during 2020 and 2021. Additionally, €83 million in aid was granted to stimulate investments in areas such as economic development, digitalisation and environmental protection.
The pandemic and the measures taken in this context, combined with other factors such as growing geopolitical tensions, have led to significant supply difficulties from 2021 and a consequent increase in commodity prices. With an increase in demand following the "post-COVID" recovery, energy prices have increased, weighing more on corporate and household budgets, causing a significant increase in inflation in Luxembourg as well as in all other European Union (EU) countries.
"Despite this polycrisis situation, we have never lost sight of our medium and long-term objectives," said Minister Fayot. "Digital transformation and the sustainable transition of the economic environment have always occupied a prominent place in setting Luxembourg on the path to a more qualitative, less resource-consuming and less carbon-emitting development".
Minister Fayot thus presented the roadmap "Ons Wirtschaft vu muer"(our economy for tomorrow) in June 2021, to support the sustainable transformation of Luxembourg's economy by 2025. The roadmap is based on lessons to be learned from the pandemic, on reflections initiated within the framework of the Rifkin process (Luxembourg's old industrial revolution strategy) as well as on pre-existing strategic governmental orientations, particularly in the fields of the circular economy, artificial intelligence and digitalisation.
Response to Russia's invasion of Ukraine
In February 2022, Russia's invasion of Ukraine created global uncertainty and inflationary pressure. Minister Fayot noted how the Luxembourg government and social partners collaborated to find solutions and introduced three agreements ("Solidaritéitspak 1.0," "Solidaritéitspak 2.0", and "Solidaritéitspak 3.0") to support households and businesses, including measures to address rising energy prices and to accelerate the energy and digital transition. For the aid scheme for companies particularly affected by the rise in energy prices caused by Russia's aggression against Ukraine, €36.2 million in aid has been granted so far.
Measures to support the transformation of the Luxembourg economy
Various initiatives were undertaken to support Luxembourg's economic transformation, continued Minister Fayot, including the relaunch of the High Committee for Industry, particularly regarding ways to reduce greenhouse gas emissions. 2021 also saw the launch of the MeluXina supercomputer to foster digitalisation and innovation, and in 2022, the inauguration of the Luxembourg House of Cybersecurity aimed to enhance cybersecurity efforts.
The economic interest group "Terra Matters" was established in 2023 to promote and support the transition to a circular economy through the development of a circular data management system for materials and products.
Investment and R&D aid
Luxembourg's Ministry of the Economy provided financial support to companies for research and development projects, with a total of €256 million granted during the period from 2018 to 2023. Environmental protection aid alone amounted to €154.3 million.
Economic diversification policy
Despite several crises, Luxembourg continued to implement its economic diversification policy, noted Minister Fayot, focusing on sectors such as space technologies, health technologies, eco-technologies and logistics. The minister highlighted that digitalisation played a pivotal role in transforming these sectors.
Minister Fayot also stressed the importance of sustainability in economic policy, aiming to support companies in their digital and ecological transition to meet future challenges and opportunities. He concluded: "To meet climate and environmental challenges, sustainability is the red thread in the economic policy that I have conducted since taking office in February 2020. In consultation with the social partners, we must continue to support companies in their digital transformation and ecological transition. We are thus helping to ensure that Luxembourg's economy can meet the opportunities and challenges that await it in the short, medium and long term."