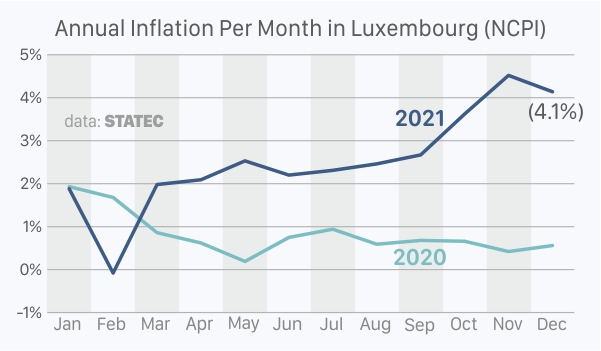 According to Luxembourg's statistical institute, STATEC, the annual rate of inflation (compared to the same month of the previous year) in the Grand Duchy has decreased from 4.5% to 4.1% over one month.
STATEC explained the decrease is mainly due to fall in the price of petroleum products by 4.8% between November and December 2021. Despite the monthly decrease, the petroleum index basket remained 46.9% higher than in December 2020.
The annual inflation a year earlier in December 2020 was 0.56%.
On a monthly basis, the food prices in December 2021 witnessed an increase of 0.2%, with fresh vegetables (+5.0%), pasta and couscous (+3.5%) and fresh fish (+3.2%) recording the strongest increases. In contrast, prices for fresh fruit (-3.8%), baby food (-2.0%) and frozen seafood (-3.3%) fell compared to November. In annual comparison, food prices remained 2.4% higher.
Alcoholic beverages saw a decrease in prices by 0.5% compared to November 2021 following promotional actions for the end-of-year celebrations on the prices of spirits and liqueurs (-2.5%) and wine (-0.9%, sparkling wine included).
On the services side, price increases (+0.4%) were noted for meals and drinks consumed in restaurants and cafes.
In terms of the seasonal holiday period at the end of December, the prices of aeroplane tickets soared 22.1% compared to November. For package travel, the price increase was only 5.4%.
Following promotions in December 2021, the prices of games and hobbies were down by 11.0% compared to November.
With the December 2021 national consumer price index data, the average annual inflation for 2021 stands at 2.5%, which is considerably higher than the 0.8% recorded in 2020.
The six-month moving average linked to the base of 1 January 1948 reached 906.33 points in December 2021, inching closer to the value of 918.17 when the next automatic indexation will be triggered.