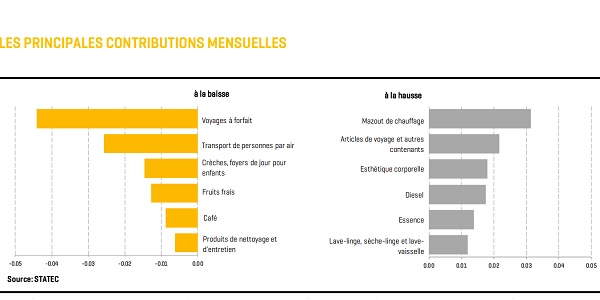 Credit: STATEC
According to Luxembourg's statistical institute, STATEC, the annual rate of inflation in the Grand Duchy has risen from 2.5% to 2.7% over one month.
In September 2021, the national consumer price index, calculated by STATEC, recorded an increase of 0.1% compared to the previous month. This development triggered a new wage indexation (2.5% increase in wages, salaries and pensions) as of 1 October 2021.
After a drop in August, the price of petroleum products started to rise again in September (up 1.2% over one month). At the pump, motorists paid 1.5% more for a litre of diesel, while petrol prices increased slightly by 0.9%. Heating oil prices rose by 2.4% compared to the previous month.
Moreover, September saw various price increases for household appliances (up 4.3%), travel-related items (up 4.0%) and aesthetic body products (up 3.2%). The cost of travel declined the most: package holiday prices fell 4.9% and flight prices fell 14.6% compared to August, due to the end of school holidays.
Food prices decreased by 0.1% over one month. The largest price decreases compared to the previous month were observed for baby food (down 3.6%), jam and honey (down 2.5%), coffee (down 1.9%) and fresh fruit (down 1.3%). On the other hand, prices increased for frozen and fresh seafood (up 2.1% and up 1.6% respectively), fresh vegetables (up 1.2%) and pork (up 1.5%). Over one year, food prices were 0.8% higher.
The annual inflation rate stood at 2.7% in September, up from 2.5% the month before. The general index for the month of September expressed in base 100 in 2015 was 109.47 points.