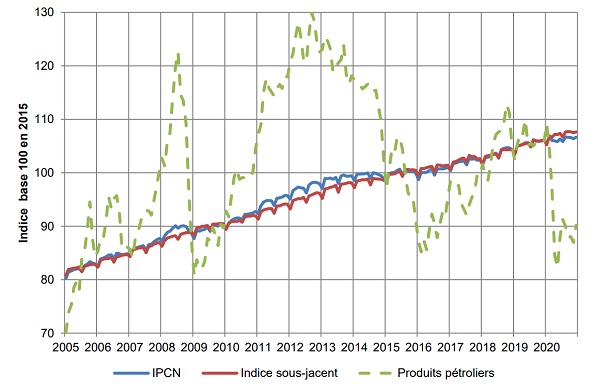 Changes in national consumer price index, underlying index and petroleum product prices (2005 to 2020); Credit: STATEC
Luxembourg's Ministry of the Economy today announced the publication of the Price Formation Observatory's (Observatoire de la formation des prix) half-yearly report.
The "Monitoring Committee for the work carried out by the Price Formation Observatory", made up of representatives of consumers, employers' organisations and the government, met on Tuesday 16 March 2021 via video conference. The monitoring committee is responsible for studying and discussing the analyses and reports of the Price Formation Observatory.
This new edition of the observatory's semi-annual report includes an analysis of the evolution of inflation in Luxembourg, a comparison of inflation with neighbouring countries and an analysis of the evolution of administered prices for the year 2020.
Annual inflation fell from 1.7% in 2019 to 0.8% in 2020, mainly due to the price drop for petroleum products (down 13.5%) caused by the COVID-19 health crisis and the increase in service prices (up 1.3%), despite the triggering of a new index bracket in January 2020. A factor that explains the more limited increase in services compared to last year is the introduction of free public transport in March 2020, a measure which impacted the prices of the transport services category (down 29.4% in 2020). Despite their lower contribution to inflation, air ticket prices also fell by 2.6% compared to 2019.
Conversely, car maintenance and repair services (up 4.5 %), hairdressing salons (up 4.7%), package tours (up 3.6%), financial services (up 3.5%) and retirement and care homes (up 2.6%) contributed the most to the increase in the price of services.
Energy prices, for their part, fell sharply in 2020 (down 7.8%), mainly due to the drop in the price of diesel (down 11.4%), petrol (down 10.6%) %) and heating oil (down 29.8%) but also town gas (down 6.8%), despite the increase in electricity prices (up 9.8%) that occurred in the month of January.
The health crisis has pushed inflation downward throughout the European Union (0.7%). Inflation in Luxembourg in 2020 remained above the European average as well as that of neighbouring countries.