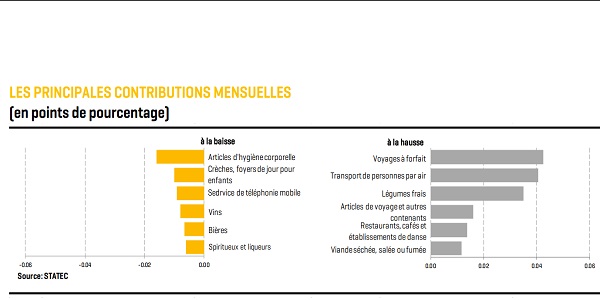 Credit: Statec
The annual rate of inflation in Luxembourg has risen from 1.2% to 1.7% over the past month, according to Statec.
In December 2019, the national consumer price index increased by 0.14% compared to the previous month. The price of petroleum products rose by 0.21%, while that of services and goods excluding petroleum products rose by 0.13%. This dynamism triggered an index bracket resulting in a 2.5% increase in wages, salaries and pensions from 1 January 2020.
In December, motorists had to pay 0.3% more for a litre of diesel, while the price per litre of petrol rose 0.2% in a month. The invoice amount for heating oil similarly increased by 0.3%. Compared with December of the previous year, the prices of black gold derivatives in the index basket were 1.0% higher.
In addition, at the end of the year, seasonal movements had a strong inflationary influence on the result. Owing to the school holidays and trips abroad to celebrate the holiday season, air ticket prices soared by 16.8% compared to November 2019. Package holiday prices rose by 2.0%.
Concerning food, the price of fresh vegetables stood out with an increase of 6.8%. In addition, higher prices were observed for fresh and frozen fish, rice and pork. In contrast, prices fell for all alcoholic beverages, tea, fruit, beef and veal. In annual comparison, food prices were nonetheless 1.2% higher.
This sharp rise in the annual inflation rate from 1.2% in November to 1.7% in December 2019 is attributed to a base effect linked to petroleum products. The annual core inflation rate gained 0.1% to 1.7%. The general index for the month of December expressed in base 100 in 2015 amounted to 106.08 points. Similarly, the semi-annual average of the index linked to the 1.1.1948 base increased from 873.93 to 874.66 points, thus triggering a new wage indexation set at 873.94.
This will result in an increase of 2.5% in wages, salaries and pensions with effect from 1 January 2020.