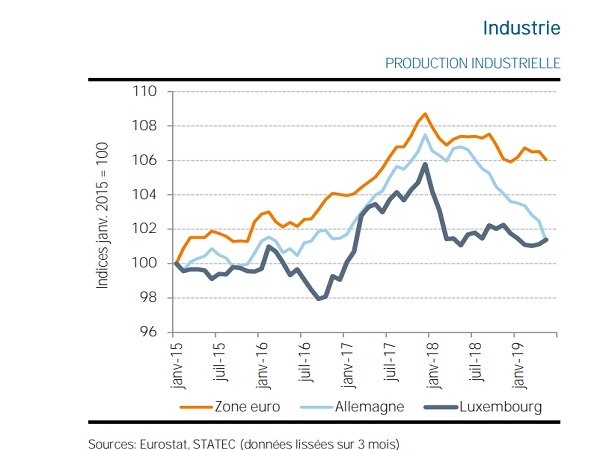 Industrial production in the eurozone; Credit: Eurostat; Statec
Over the first half of 2019, industrial production in the euro area fell by 0.9% year-on-year; in Luxembourg production was down 0.8% over this period, according to the national statistical agency, Statec.
According to a recent Statec report, not all eurozone members were affected by this decline in industrial production. Indeed, only six saw production fall during this period. Among them, Germany was most affected (down 3.9%), whilst Luxembourg's production dropped 0.8%. Nevertheless, industrial production in the Grand Duchy has remained somewhat stable since the sharp fall in production from 2017 to 2018, a development mainly attributed to declines in machinery and equipment and plastic products.
On the other hand, the second quarter of 2019 saw the net assets of undertakings for collective investment (UCIs) in Luxembourg rise by 4.1% over one year. The valuations of the shares held by UCIs were particularly limited by the announcements of customs surcharges between the United States and China in early May which caused the stock markets to fall throughout that month. The rise in uncertainty around the impacts of the commercial conflict and the rebound in volatility on the markets it generates has also limited net issuance (+€12 billion over one quarter vs. +€49 billion due to market fluctuations).
In the euro area, investment funds also recorded weak growth in their assets (+5.4%) because of the decline in net issuance of equity funds, which suffered significant depreciations in May 2019. Luxembourg nevertheless retained its market share in the euro zone with 33% of assets under management in the first quarter.
Regarding the price of agricultural products, the drought in Europe in summer 2018 pushed up consumer prices for certain crops, namely potatoes. However, with a year-on-year increase of 16% in July, price growth in Luxembourg remained moderate compared to France and Germany (+29 and +35% respectively). The price of fresh vegetables also rose throughout 2018 before falling slightly (+11% over one year in July).