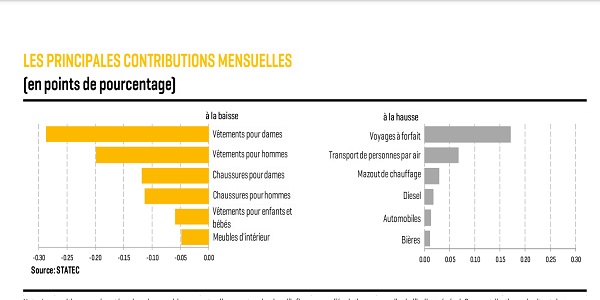 Credit: Statec
The annual rate of inflation in Luxembourg has remained stable at 1.8% over the past month; the monthly rate decreased by 0.7%.
In July 2019, the national consumer price index, calculated by STATEC, fell by 0.7% compared to the previous month. Like every year, this decrease was mainly due to the price reductions offered during the summer sales. By offsetting balancing changes and excluding petroleum products, prices for other goods and services increased 0.2%.
Following a decline in June 2019, fuel prices rose by 0.5% last month (up 1.3% for diesel and 0.2% for petrol). Similarly, oil heating prices increased by 2.8% compared to those recorded in June. For their part, the prices of black gold derivatives in the basket of the index were once again 2.0% lower.
Package holiday prices had the greatest impact on July's inflation; as the holidays began, prices rose by 7.8% in one month. Likewise, passenger flight prices went up 25.5% compared to June.
In addition, food prices increased by 0.3% compared to the previous month. The price of fresh fish and potatoes was especially high, up 3.5% and 2.9% respectively. On the other hand, frozen food and fresh fruit were 3.1% and 0.4% cheaper in July than in the month before.
Nevertheless, summer sale reductions contributed to this slight decline in inflation in July. For instance, the price of clothing items and shoes fell by 13.8% over one month, whilst furniture prices decreased by 2.5%
The overall index for the month of July, expressed in base 100 in 2015, amounted to 104.83 points. The semi-annual average of the index linked to the 1.1.1948 base rose from 868.48 to 870.38 points.