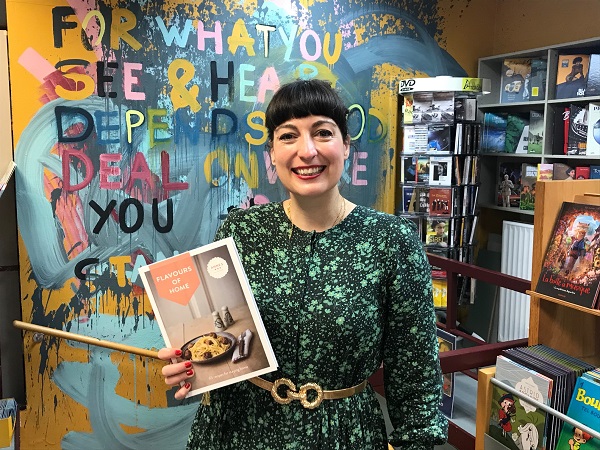 Anne Faber at launch of "Flavours from Home";
On Saturday 14 November 2020, Anne Faber held a book-signing of her new cookery book "Flavours from Home" at the Librarie Alinea on Rue Beaufort in Luxembourg-ville.
The book-signing was held on the first floor in both morning and afternoon sessions, with sanitary measures in place to make it a safe environment.
Conceived and undertaken during lockdown in spring this year, Anne Faber also self-published this book which not only contains 65 recipes - 48 filmed for a tv series and an extra 17 "bonus" recipes - but each has a QR-code which links to a video of her making the dish, in Luxembourgish with English sub-titles.
The book's blurb explains "This is a cookbook you can turn to for every occasion". Anne Faber has taken ingredients one is most likely to find in one's kitchen and has turned them into 65 "easy-going recipes" from comforting Luxembourgish dishes and recipes inspired by Anne's travels, to vegetarian delights and perfect everyday cakes.
Soups, salads, dumplings, various starters and nibbles/dips, quiche and flammkuchen, pasta dishes, a vegetarian Bouchée à la Reine, as well as chicken, lamb, beef and fish dishes, together with desserts and cakes...
"Flavours from Home" comprises 65 recipes over 152 pages in the A5-sized hardcover book and costs €29.95 from bookshops. See also www.anneskitchen.lu