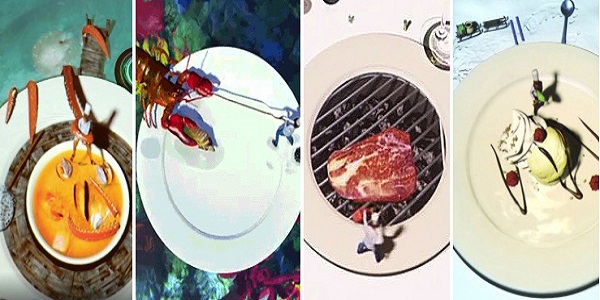 For the first time, Le Petit Chef, the smallest chef in the world (58mm tall), will make an appearance in Luxembourg, at Elch Restaurant in Bertrange.
Le Petit Chef is an animated character brought to life with technology developed by a Belgian-based company. This innovative dining experience delivers, using 3D projection mapping, the story of the small animated chef onto diners' plates, where he proceeds to "cook" their food in front of them. With the help of overhead projectors, the dining table transforms into an immersive theatre where the tablecloth, plates and utensils become backdrops and props for the story's hero to show off his culinary prowess.
Since his creation in 2010, Le Petit Chef has become a viral sensation in restaurants around the world, from London and Singapore to Dubai and Kuala Lumpur. Now, he will be hosted in Luxembourg by Murat Mutlu, owner of Elch Restaurant.
Murat Mutlu commented: "I have been living, and doing business in this lovely country for more than 25 years. I am the kind of person who always enjoys doing unusual projects, and putting exciting ideas into action. In 2014, for an event organised by our real estate company "Immo Luxembourg", I decided to invite the tallest man in the world: Sultan Kösen (251 cm tall). This attracted the attention of tens of thousands, not only in Luxembourg, but throughout Europe. It was an amazing experience for us".
Mr Murlu added: "This year, I am delighted that our restaurant will host the smallest chef in the world, which has been a tremendous success worldwide. I am sure that all of our guests will [enjoy] this unique, and amazing experience at our French restaurant, no matter their age. We are planning another big surprise for the last week of Le Petit Chef, which we expect to be a viral sensation in Luxembourg".
From 18 February to 31 May 2020, the world's smallest chef will combine cinema, theatre and culinary creation in three exclusive Private Dining Rooms at Elch Restaurant that can accommodate up to eight guests per seating (lunch and dinner sessions from Tuesday to Friday).
Prices start at €99 per person for this unique two-hour immersive culinary journey. Guests will enjoy a six-course dinner which is prepared behind the scenes by the chefs at Elch Restaurant.
For reservations or further questions, visit www.elch.lu or contact the restaurant via email: lpc@elch.lu