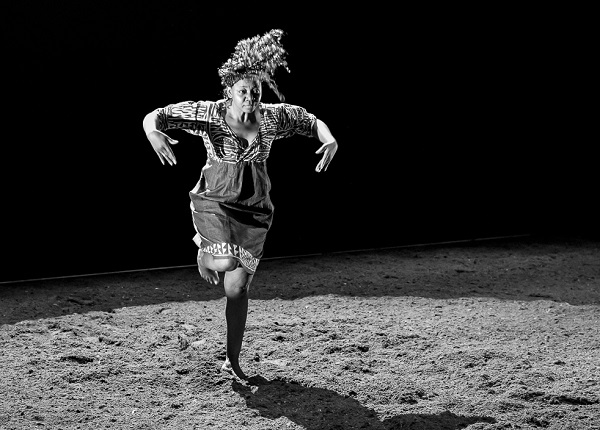 Dance instructor Modestine Ekété; Credit: Olivier Bouton
TROIS-CL has announced a discovery dance workshop on African contemporary dance, taking place on 30 March 2019 from 14:00 to 15:00 and on 31 March 2019 from 10:30 to 12:00.
The objective of this workshop proposed by Modestine Ekété is to offer each participant the opportunity to discover the choreographic richness of African dance, which she has been teaching in Luxembourg for a few years.
Modestine Ekété's approach is based on the fusion of body and mind, which releases creative energies while respecting the codes of African dance. In addition to artistic expression, this dance can be seen as a means to reach a state of deep relaxation and to free oneself from fear, anxiety and tension.
Of Italian and Cameroonian nationality, originally from Dschang, Modestine Ekété has frequented the world of African dances and music from a very young age. She teaches them today, to amateurs and professionals, in their traditional and contemporary forms, while respecting their evolution.
Winner of the National Contemporary Dance Contest, choreographic assistant in companies and Cameroonian representative on the National Dance Committee, Modestine Ekété has worked with renowned choreographers and participated in many festivals on the international scene. She has been a pioneer in the discovery of African dance in Luxembourg, where she has lived since 2005. She develops cultural projects around her three disciplines: music, dance and theatre. Her musical album "Zing Ndada", released in October 2017 at the Kulturfabrik, has been touring the musical scenes of the Grand Duchy ever since.
This workshop, held on the premises of TROIS C-L (12 Rue du Puits, 2355 Luxembourg), is open to all levels from 16 years old. A trial class costs €25 (€20 for professional artists, jobseekers and students upon presentation of proof) or €50 (€45) for the full two-class workshop.
For more information and registration, visit https://www.danse.lu/formation/public-amateur/danse-africaine-contemporaine-decouverte-des-16-ans/.