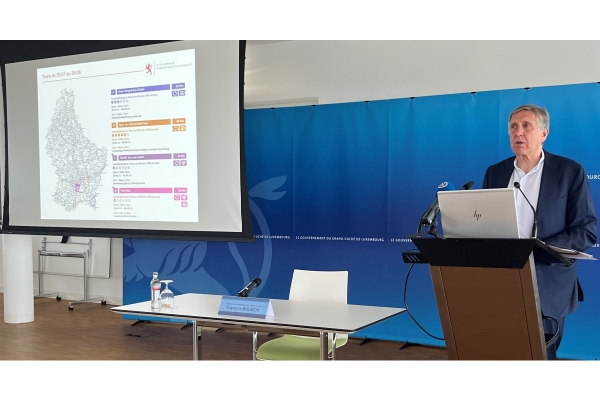 François Bausch, Deputy Prime Minister, Minister of Mobility and Public Works; Credit: MMTP
On Monday 4 July 2022, Luxembourg's Deputy Prime Minister, Minister of Mobility and Public Works, François Bausch, presented the new "Vëlosummer 2022" cycling initiative.
Following the success of the second edition with 20,000 participants, a third edition of Vëlosummer will be organised from 30 July to 28 August 2022 with 56 participating municipalities on eleven cyclo-tourist circuits across the Grand Duchy, with more than 450 km of cycle routes. This new edition will offer five new circuits compared to 2021 with 120 km of roads reserved for cyclists, 90% of which only for one or two weekends.
A varied tourist promotion
Following the presentation of the eleven cyclo-tourist circuits, the communication campaign and the tourist promotion of the "Vëlosummer 2022" were presented. In view of the great success of the 2021 edition, the General Directorate of Tourism will once again publish a detailed map illustrating the eleven cycling routes and highlighting the Horeca establishments as well as tourist points of interest. Indeed, icons on the map will provide information on restaurants, accommodation structures, tourist sites or bicycle rentals.
The participating municipalities and the five Regional Tourist Offices (offices régionaux du tourisme - ORT) will also contribute to the "Vëlosummer 2022" tourism framework programme, with activities along the sites. On different routes, local bike clubs will organise barbecues. A series of promotional videos will highlight the tourist attractions located on the routes of the Vëlosummer.
In addition, the "Move we carry" luggage transport service, allowing cyclists to have their luggage delivered free of charge from one accommodation to another, will be available again, for an amount of €12 per luggage (www.movewecarry.lu). In addition, certified "bed+bike" accommodation, which has a free and closed bicycle storage room, will be happy to welcome cyclists (www.bedandbike.lu). In addition, there is the "Rent a bike" service which will allow to rent bicycles, either in the "Rent a Bike" stores or directly on the "Vëlosummer 2022" circuits, such as in Echternach or Remich.
Clear and precise communication
Further information is available online via: www.velosummer.lu, as well as on the "VisitLuxembourg" application. The types of route, the levels of difficulty, details of the characteristics of each circuit as well as additional information for families are indicated.
In addition, signage (marking and markings on the ground) will indicate the way to the participants of the Vëlosummer.