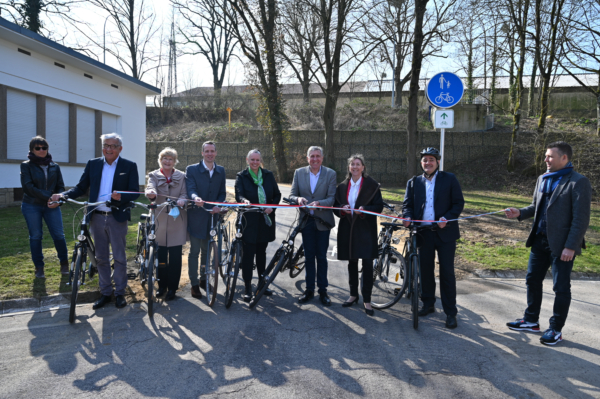 (L-R) Monique Goldschmit; Laurent Mosar, alderman; Simone Beissel, alderman; Serge Wilmes, alderman; Carole Dieschbourg, Environment Minister; François Bausch, Mobility Minister; Lydie Polfer, Mayor; Ralph Di Marco, Bridge and Pavement Admin.; Credit: MMTP
On Friday 25 March 2022, Luxembourg's Deputy Prime Minister and Minister of Mobility and Public Works, François Bausch, the Minister for the Environment, Climate and Sustainable Development, Carole Dieschbourg, and the Council of Aldermen of Luxembourg city inaugurated the new Beggen-Dommeldange section of the PC1 cycle path.
The new 1.1 km section constitutes an essential connection of the network of the Alzette valley, allowing cyclists coming from Walferdange to reach Luxembourg city in this independent route. Until now, cyclists had to share the rue des Hauts-Fourneaux and the narrow bridge spanning the rails with heavy motor traffic. The width of the track is three metres, as an "express cycle track" linking the Luxembourg city to the Nordstad. In order to separate the pedestrian flows from the cyclist flows, the width is four metres between Dommeldange station and the Lycée Emile Metz.
On the Luxembourg city side, cyclists can reach Hesperange via the PC1, the upper town via the Pfaffenthal lift and the Kirchberg plateau via the lift and the funicular from the CFL Pfaffenthal-Kirchberg stop. On the Walferdange side, the PC1 is connected to the existing PC15 and to the future redevelopment of the N7. In Dommeldange, the PC1 is connected to another national cycle route in the direction of Kirchberg (boulevard de la Foire) which leads to the PC2 in the direction of Senningen and Echternach.
Minister Bausch recalled in his speech that work to remove the level crossing at Dommeldange (PN 13) will begin soon. A new cycle underpass, which will also have lifts and comply with standards for people with reduced mobility, will be built.