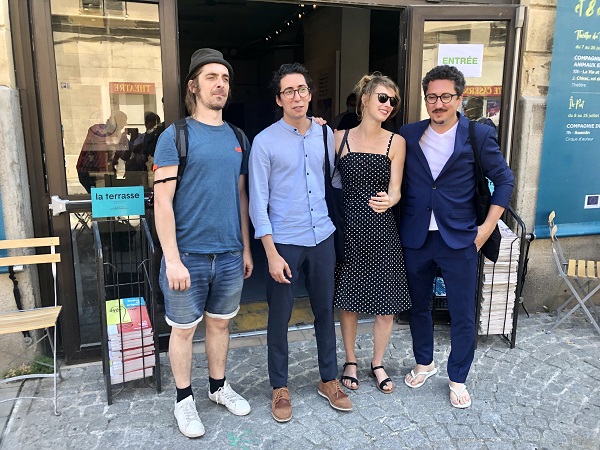 (Above): "Sales Gosses" team (L-R: Jorge de Moura; Fábio Godinho; Claire Cahen; Marco Godinho); (below) Christophe Wiesner, Director of Rencontres d'Arles festival; Credit: MCULT
Luxembourg's Ministry of Culture has announced that several local talents are presenting their shows and creations at this year's Avignon "Off" Festival and the Rencontres d'Arles festival in southern France.
While the 2020 festival was cancelled due to the COVID-19 pandemic, the 2021 edition was preceded by intense preparations, with organisers considering many scenarios so that the festival could take place. The Avignon "Off" Festival is thus taking place in line with various sanitary measures, such as compulsory mask wearing, disinfectant gel for audiences and disinfection of rooms between shows, from 7 to 31 July 2021.
More than 1,000 different shows are on the agenda and are being played on often improvised stages, in courtyards, gymnasiums, garages and hotels. Representing Luxembourg this year are Fábio Godinho (actor), Jill Crovisier (dancer and choreographer) and Simone Mousset (dancer and choreographer).
The Luxembourg theatre has been present in Avignon for a quarter of a century, in collaboration with the Theater Federatioun, which chooses the shows based on a public call. Since 2019, Luxembourg has collaborated with the Grand Est region, which hosts a Luxembourg creation each year at the Caserne, a former fire station converted into a theatre for the occasion. This year, it will host "Sales gosses", a Luxembourg production (Théâtre du Centaure) based on the play by Romanian author Mihaela Michailov. "Sales gosses" is directed by Fábio Godinho and stars Claire Cahen and Jorge De Moura; Marco Godinho was responsible for set design. The play, which addresses the issues of mobbing and violence at school, is being performed every day at 12:45 until 26 July 2021.
In addition, two Luxembourg choreographers will present their creations in Avignon: Jill Crovisier questions our Western cultures through emblematic rituals in "The Hidden Garden", which is being performed at Golovine theatre until 29 July; Simone Mousset takes a tender and humourous look at male identity at the start of the 21st century in "The Passion of Andrea 2", which will play until 20 July at the CDCN Les Hivernales.
The 2021 Avignon Festival also marked the first official presence abroad of Kultur | LX, the new Luxembourg arts council. The two directors, Valérie Quilez and Diane Tobes, took this opportunity not only to publish a programme brochure ("La création luxembourgeoise en Avignon"), but also to organise an informal meeting of the three teams, artists, technicians and producers.
On Tuesday 13 July 2021, the Grand Est region and its cultural agency are also inviting the teams involved in Esch2022 - European Capital of Culture, led by Director General Nancy Braun, to present their live performance programme for next year.
Professional exchanges around shows for young audiences on Tuesday will also see the involvement of Assitej Luxembourg (Association internationale de théâtre pour enfants et jeunes), chaired by Laura Graser. Representatives of Assitej will present and discuss seven Luxembourg creations in front of their French colleagues as well as programmers and artists.
In addition, the Luxembourg cultural scene is being represented at the Rencontres d'Arles summer photography festival in southern France. Contemporary artist Jeff Weber is currently in the spotlight at the Carré d'Art contemporary art museum in Nîmes, with his monographic exhibition "Serial Grey". The exhibition, curated by Jean-Marc Prevost, forms part of the satellite programme of the Rencontres d'Arles and will run until 14 November 2021.
About 30 kilometres from Nîmes, Luxembourg is occupying the Chapelle de la Charité for the fourth time with a pavilion organised by the association Lëtz'Arles, chaired by Florence Reckinger. The projects "Erre" by Lisa Kohl (curator: Danielle Igniti) and "Providencia" by Daniel Reuter (curator: Michèle Walerich) inhabit this chapel together with their sensitive projects on "l'Autre et notre manière de le voir (ou pas)" (the Other and our way of seeing him (or not)).
While the 2020 edition of the Rencontres d'Arles also had to be cancelled, this year's opening, which took place on Thursday 8 July 2021 in the presence of the artists, officials of the city of Arles and Her Royal Highness the Hereditary Grand Duchess of Luxembourg, attracted an enthusiastic audience. The festival lasts until 26 September 2021.