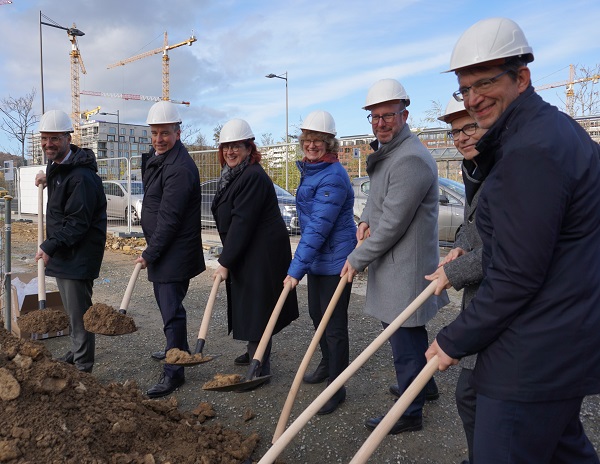 Biotech 3 building groundbreaking; Credit: MESR
On Tuesday 29 November 2022, Luxembourg's Ministry of Higher Education and Research confirmed that the ground-breaking ceremony took place for the Biotech 3 building in Esch-Belval.
Claude Meisch, Minister of Higher Education and Research, Jens Kreisel, Vice-Rector of the University of Luxembourg, and Simone Asselborn-Bintz, Mayor of the municipality of Sanem, officiated at the first digging ceremony of the building which will address the needs of the University of Luxembourg on the Belval campus.
Situated on an area of ​​19.80 ares, the Biotech 3 building, designed by Technoconsult SA, will be six storeys tall and will offer a gross area of ​​7,369 m2 of mainly offices and laboratories of the Luxembourg Centre for Systems Biomedicine (LCSB) and the Department of Life Sciences and Medicine (DLSM) of the University of Luxembourg.
According to the ministry, the provision and method of use of the Biotech 3 (BT3) are essential for the optimal development of the LCSB and the DLSM based on a structured separation of administrative and research functions. The shape and organisation of the planned building take into account the desire to create a physical link with the Biotech 2 building, inaugurated in 2016 and mainly occupied by the two same research players. Therefore, Biotech 3 is planned to fit perfectly into the concept of enhancing the Belval site to create, through its proximity to the other research centres and departments of the University of Luxembourg, numerous possibilities for synergies.