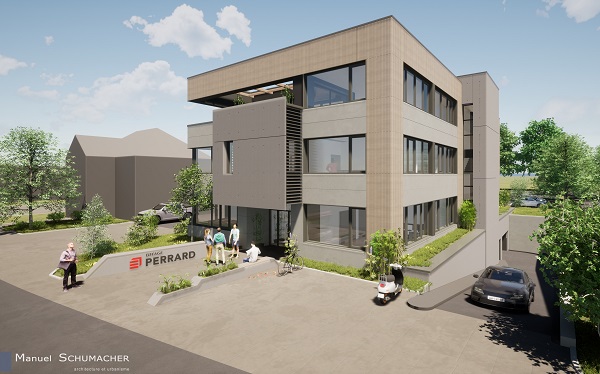 Perrard's new head office; Credit: Manuel Schumacher
Luxembourg construction company Perrard SA has moved to a more energy-efficient, innovative building in Senningerberg.
Founded in 1900, Perrard is one of the oldest construction companies in Luxembourg. An expert in the field of building and civil engineering, the company joined the Eiffage group, a European leader in construction, energy systems, infrastructures and concessions, in 2005.
Whilst Perrard remains located in the municipality of Niederanven, the new head office in Senningerberg allows the company to return to its roots, building on the site where it was born, and to bring together all of its activities on a single site.
This construction project presents a building at the cutting edge of new technologies and energy performance. The building has achieved the most efficient energy class, "triple A", thus keeping energy consumption and CO2 emissions to a minimum.
To achieve these objectives, the company has relied on the use of modern materials, active concrete slabs to heat or cool the surface, centralised ventilation to renew the air, a heat pump to heat and cool the building, photovoltaic installations, triple glazed windows and a high-performance, airtight thermal insulation envelope.
Alain Putz, Managing Director of Perrard, commented: "We are proud to have built an innovative building which already meets future energy criteria".
Its performance will also be checked during an energy assessment after one year of occupation.
This large-scale project also meets the company's needs for expansion, as well as its desire to offer a modern working environment to its employees. The workshops, the depot, and the new offices will be juxtaposed on the same site to "facilitate coordination between the teams and the different departments".
In the new building, the management has opted for partitioned offices, which are spacious and bright, rather than open space. Mr Putz continued: "The experience we have just gone through with COVID-19 has confirmed our choice. From a health point of view, it is safer".
The building also features relaxation areas, a lounge and a kitchen, as well as a terrace, all of which are aimed at promoting exchanges between employees. In addition, they will have access to modern equipment, such as blinds and automated lighting, and a manual which encourages eco-responsible behaviour.