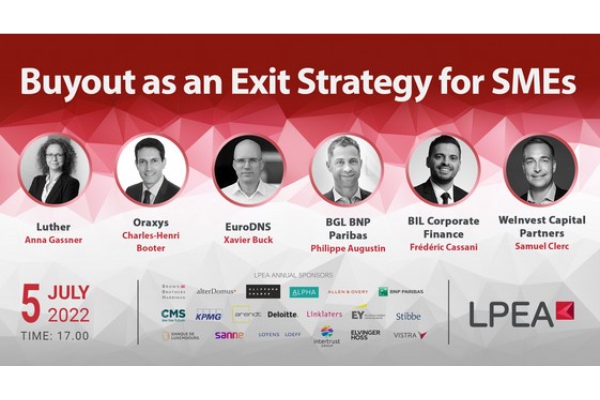 Credit: LPEA
The Luxembourg Private Equity & Venture Capital Association (LPEA) announced a information session on leveraged buyout (LBO), one company's acquisition of another company using a significant amount of borrowed money to meet the cost of acquisition, taking place on Tuesday 5 July from 17:00 to 19:30 at the BNP PARIBAS Securities Services premesis (60 Avenue J.-F. Kennedy) in Luxembourg-Ville.
Various speakers will explain why LBO can be an efficient means to achieve a smooth change of control, notably from one generation of owners and managers to another, and contribute to SME's sustainable growth.
Speakers:
Anna Gassner - Luther
Charles-Henri Booter - Oraxys
Xavier Buck - EuroDNS
Philippe Augustin - BGL BNP Paribas
Frédéric Cassani- BIL Corporate Finance
Samuel Clerc - WeInvest Capital Partners
Participation is free and registration for the event is available online via: https://www.eventbrite.com/e/leveraged-buyout-best-way-to-address-the-smes-transition-tickets-350329092747.
The LPEA also announced a two-hour webinar on "Luxembourg Employment Law Explained to Private Capital Players" taking place on Wednesday 6 June 2022 from 12:00.
This webinar, presented by Christophe Ernzen and Gilles Dall'Agnol from Allen & Overy Luxembourg, is designed for organisations' decision-makers, legal and / or HR specialists in Luxembourg.
Topics discussed during the session are:
Flexibility tools for employers:
– Trial Period / Fixed-term contracts
– Global employment contracts
Rights for employees:
– Salary indexation
– Staff delegation
Luxembourg specific frameworks:
– Leaves (annual, maternity, paternity, parental, family)
– Working time
– Remote working
Terminations:
– Resignations
– Dismissals
Participation is exclusive to LPEA members and available online via: https://us02web.zoom.us/webinar/register/WN_nqqzMaHdR3y5m-9iyI5JFA.