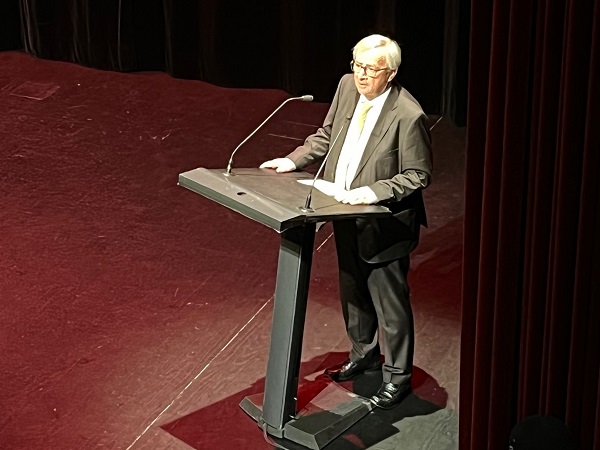 Jean-Claude Juncker; Credit: Geoff Thompson
On Monday 30 May 2022, the British-Luxembourg Society hosted this year's Winston Churchill Memorial Lecture in the Robert Krieps auditorium of Neumünster Abbey in Luxembourg-Grund, which attracted around 270 people to this prestigious event.
Louise Benjamin, President of the British-Luxembourg Society, opened proceedings by welcoming everyone, including students and representatives of the academic, business and political sectors. She referred to the statue of Winston Churchill in Luxembourg-Ville and acknowledged the massive outpouring of gratitude for Winston Churchill.
The British Ambassador to Luxembourg, Fleur Thomas, also addressed the audience and referred to the number of events held by the British-Luxembourg Society, some of which are held in her residence, as well as English conversation classes. She also mentioned COVID-19 and excused herself from the lecture and the rest of the evening for family reasons.
Guy Dockendorf of the Fondation Nationale de la Résistance talked about Zazi concentration camps as well as Russia's invasion of Ukraine on 24 February and the General Strike of 1942.
Patrick Santer introduced His Excellency Jean-Claude Juncker, former Prime Minister of Luxembourg and President of the European Commission, whom Louise Benjamin revealed has been the first Luxembourger to deliver the Winston Churchill Memorial Lecture.
He opened by referring to the fact that English is not his best language and also that he spends two days a week in Brussels with an office in the Berlaymont building of the European Commission regarding which he admitted he was not enamoured.
He talked about the current crisis which started with "Mr Trump" entering the White House, complaining about EU defence policy and trade surpluses which he stated did not reflect reality. He stated that he is happy that NATO is still in place and explained that the European defence effort needs to be strengthened immediately. In Europe, there are over 100 defence systems, with just 27 in the US. In total, the European defence budgets account for just 50% of the US defence budget, yet is only 15% as effective. "We have to synergise our national defence efforts", he stated. He added: "What is true for the defence sector is also true of the trade sector".
He recounted that he had a good relationship with the former US President Donald Trump; he stressed that the EU is stronger when speaking with one voice and revealed that the two of them should talk together rather than the US having bilateral trade discussions with different EU Member States. He also mentioned the signing of the EU-Japan and EU-Canada trade agreements which he described as difficult (in getting there).
He acknowledged that the EU-Mercusor trade negotiations did not succeed, but there is a better understanding now compared to before.
On China, he described this as a different case, also different to Russia. The system is different but it demands respect. He described China as a partner, competitor and rival when it comes to trade, as EU companies do not have access to the enormous internal market of China, therefore defence mechanisms were put in place in the trade agreement.
On Russia, he mentioned that he met President Vladimir Putin in 2000-2002 and confirmed that their relationship was good; however, he conceded that he does not understand what has happened recently. He revealed that he spoke German to Putin which did not need translators. He said that we must "push Putin back into his corner" and "the time has come to finish this war", also that there is no justification for the war. He admitted that the time will come that we must reconnect with Russia, but how this will be done will have to be seen.
He stated that we must stand with Ukraine. He said that he organised the first EU-Ukraine summit in 1997, following which he was involved in negotiations for five years addressing issues such as corruption. "Ukraine needs a clear-cut European perspective", he stated, as Ukraine is applying for EU Membership, a process which he stressed cannot be rushed. In this context, he stated that we should not forget another region close by, the Balkans. He referenced Churchill stating that "the Balkans create more history than they can consume".
He said that we should not forget that our neighbour, Russia, has a surface are of over 17 million km2, with the EU around 4.5 million km2. The EU's economy is decreasing, percentage-wise, so we must be aware of the EU's strength in future negotiations. He referred to Brexit, referring to the maintenance of EU unity which was a huge strength.
In the future, he stated that we should not be afraid of changing EU treaties; they may not be the answer to all the EU's challenges. We have to change our decision method in the field of foreign affairs, including sending soldiers into battle. He called for a common majority (against vetoes) to be able to express ourselves with a common voice.
He also mentioned social rights by implementing the principles agreed by all EU Member States in 2017 in Gothenburg, ensuring that minimum wages exist in all Member States. He also called for the development of the Monetary Union and mentioned the European Policy for Stability, Policy and Growth for 2023, but then called for a return to normal practice.
In conclusion, he called for patience and determination for the future.
Afterwards, following a brief Q&A session, a reception was held in the Cloisters of Neumünster Abbey, with attendees enjoying drinks and canapés in the Lucien Wercollier gardens.
The event was organised as part of the 75th anniversary year of the British-Luxembourg Society, together with the British Embassy in Luxembourg and the Fondation Nationale de la Résistance.