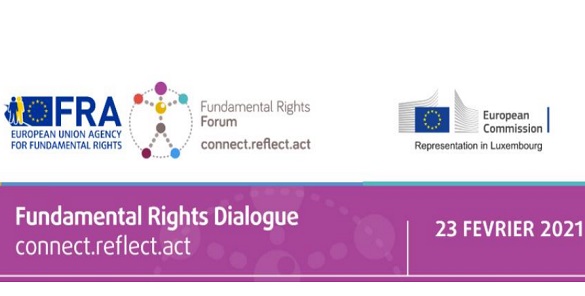 The Representation of the European Commission in Luxembourg has announced that it is organising, in cooperation with the European Union (EU) Agency for Fundamental Rights (FRA), an online Fundamental Rights Dialogue on Tuesday 23 February 2021, from 18:00 to 19:30.
This participatory dialogue will address issues such as racism, hate speech and disinformation, discrimination, fair and equal access to education, jobs and healthcare and the impact of the COVID-19 pandemic on people's human rights. Nothing is off topic.
Fundamental Rights Dialogues provide an opportunity to everyone in Europe, and particularly to young people, to voice their human rights concerns and suggest ideas and solutions in a conversation with Michael O'Flaherty, Director of FRA. The views and experiences shared during these online events will inform the discussions of the next Fundamental Rights Forum on 11 and 12 October 2021.
The event will be held in French and English, allowing for interventions in both languages.
Whilst the dialogue specifically targets young people aged 16 to 30, everyone is welcome to attend.
Interested individuals are also invited to record a short video message (max. one minute) in the form of a statement or question to FRA Director Michael O'Flaherty. Videos can be recorded (in French or English) and submitted until Thursday 18 February 2021 via the video booth: fra.mci-events.eu/video-booth. Videos should be taken in landscape mode. In terms of video quality, smartphone and tablet cameras are recommended over laptop webcams.
To attend this online Fundamental Rights Dialogue, register at eu.eventscloud.com.