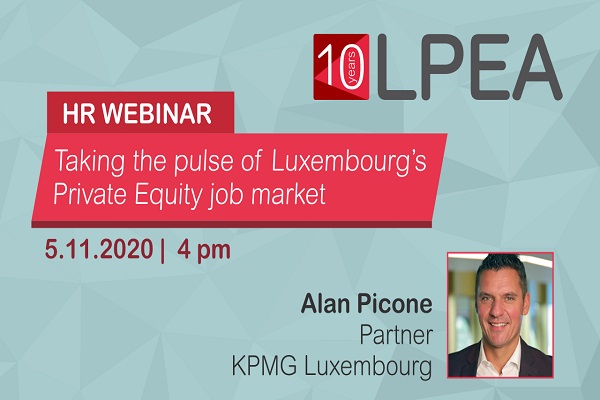 The Luxembourg Private Equity & Venture Capital Association (LPEA) has announced that it is holding an HR webinar entitled "Taking the pulse of Luxembourg's Private Equity job market" on Thursday 5 November 2020 at 16:00.
The guest for this next episode of of the HR webinar series is Alan Picone, Partner at KPMG Luxembourg. Alan has experience in two Big4 companies and knows everything about the "kitchen" of these corporations. He will talk about what it takes to succeed in Big4 companies, if it is worth it and what opportunities KPMG Luxembourg can offer candidates.
Alan Picone joined KPMG Luxembourg in 2018 as a Partner heading-up the Regulatory Consulting & Risk Advisory division specifically for Asset Management and Alternatives.
Register at https://us02web.zoom.us/webinar/register/WN_vyKDt2NxQBSkLTXgWYCAWg.