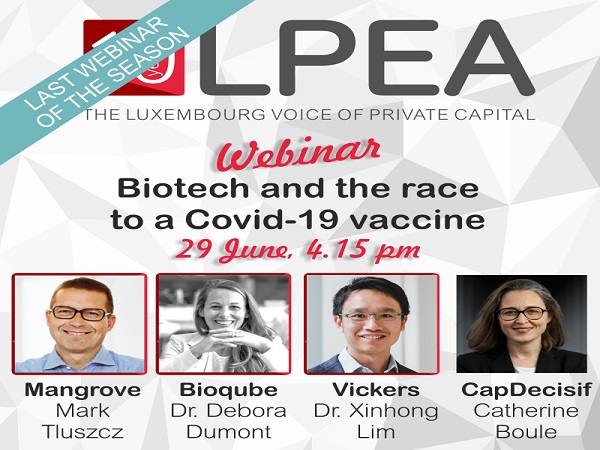 The Luxembourg Private Equity & Venture Capital Association (LPEA) has announced that it is holding the last webinar of its online events series on Monday 29 June 2020 at 16:15.
The webinar, entitled "The role of health-tech Venture Capital in the race to vaccine against COVID-19", will bring together for LPEA investor members to discuss the importance and role of Venture Capitalists (VC) in solving current sanitary crisis and its deep implications.
The following healthtech and biotech investors will be present on this occasion: Mark Tluszcz, co-Founder and CEO of Mangrove Capital Partners (Luxembourg); Dr. Debora Dumont, co-Founder and Managing Partner of Bioqube Ventures (Belgium); Dr. Xinhong Lim, Director and Analyst of Vickers Venture Partners (Silicon Valley, USA); and Catherine Boule, Managing Partner of CapDecisif Management (France).
The international panel, moderated by LPEA CEO Rajaa Mekouar, will provide an extensive view on the race to finding a vaccine for SARS viruses, the healthcare supply chain involved and the political and regulatory considerations of the process. From an investor perspective, the session will also explore if and how are investors exposed to the healthtech sector, how investment trends shifted and how has their portfolio been affected by COVID-19.
This webinar closes LPEA's series of interviews and webinars held for the past three months. A new series of digital events will be planned again from September onwards.