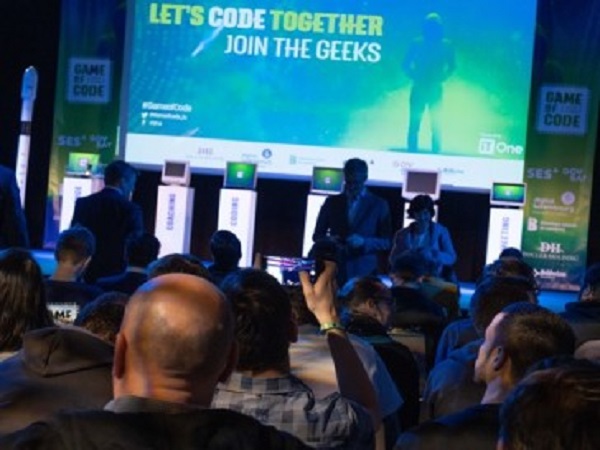 Credit: Farvest
This year's Game of Code hackathon, originally scheduled for 3-4 April at Forum Geesseknäppchen in Luxembourg City, has been postponed to 19-20 June 2020.
In light of recent developments regarding the coronavirus pandemic, the organisers of Game of Code, Farvest Group, have announced their decision to postpone the competition to June 2020.
According to the organisers, only the date has changed; everything else remains the same. For the fifth consecutive year, hundreds of coders and developers will come together to compete in a 24-hour hackathon in Luxembourg City. They will spend 24 hours on several tech and coding challenges while expressing all their creativity in order to win over the jury members, sponsors of the event and IT experts.
For this new edition of Game of Code, Patrick Weber (Digital Government Innovation | AI | Distributed Ledger Tech | Open Data & Services, Ministry of Digitalisation) will be discussing the government's latest tech and digital initiatives and officially opening the 2020 competition.
Moreover, an Open Banking challenge, proposed by LUXHUB, will see participants work on the creation of an innovative open banking application. They will be granted access to the testing environment of LUXHUB ONE, the company's account aggregation and payment initiation solution, and will attempt to come up with and implement a new integrated product based on real Open Banking use cases.
Just like last year's edition, Digital Luxembourg will have the coders work on an Open Data challenge. Teams are expected to create new apps, services and visualisations that make use of data from the Open Data Portal to improve the social cohesion of our digital society, for instance in terms of mobility and healthcare.
Docler Holding Luxembourg will also participate with a Game App challenge. Developers will have to create a mobile game (native or web app) that delivers all the practical information and helpful tips and tricks expats and locals need for working/living in Luxembourg.
The Lëtz Cybersecurity Challenge, organised by C3, will be held in parallel and requires a separate registration. This competition targets open-minded creative digital natives who will have to solve security related tasks from domains like web security, network security, wireless and IoT security, cryptography, exploitation, reverse engineering, forensics, puzzles, trivia and much more.
Registrations for Game of Code are open until 12 June 2020 at the latest. Places are limited to 40 teams. To register, visit https://www.gameofcode.eu/2020-edition#3 or send an email to team@itone.lu.