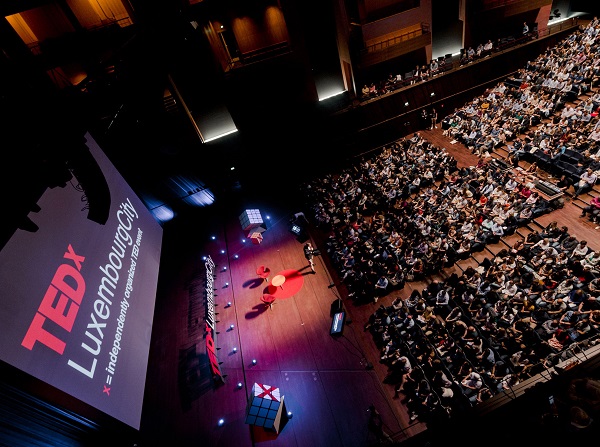 Credit: Kaori Anne Jolliffe / Silicon Luxembourg
The organisers of TEDxLuxembourgCity have announced that the next conference will be taking place this Sunday 8 December 2019 at the Hemicycle of the European Convention Center in Luxembourg-Kirchberg (1 Rue du Fort Thüngen, L-1499 Luxembourg).
This edition will focus on women for the first time. In an interview with Silicon Luxembourg, Dirk Daenen, organiser of TEDx events in the Grand Duchy, cited "the necessity of empowering girls and women all around the world" as the reason behind this choice.
The confirmed speakers at this first women's edition are Tessy Anthony de Nassau (formerly Princess Tessy of Luxembourg), theoretical physicist and technologist Adriana Marais, entrepreneurs Tamy Ribeiro and Leslie Maliepaard, Laurie Stach, founder of LaunchX, American professional soccer player Bryane Heaberlin, Luxembourgish soprano Mariette Lentz, the award-winning dancer Elisabeth Schilling, and Peter Veldman, Head of Fund Management at EQT.
Programme
13:00 Doors Open - welcome drink
13:30 Session 1
14:40 30-minute Networking Break (food and drinks provided)
15:10 Session 2
16:00 30-minute Networking Break (coffee and snacks provided)
16:30 Session 3
The conference is scheduled to end at 17:30.
Tickets cost €55 and are available from Eventbrite: https://www.eventbrite.com/e/tedxluxembourgcitywomen-tickets-73324370165.
For further information, visit https://www.tedxluxembourgcity.org/. To read the full interview with Dirk Daenen, see https://www.siliconluxembourg.lu/tedx-luxembourg-city-sharing-inspiring-ideas-in-the-grand-duchy/.