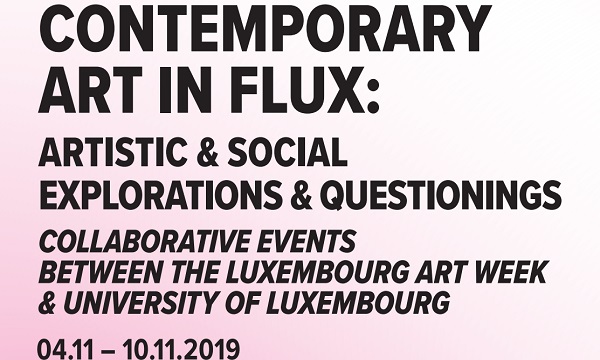 Luxembourg Art Week and the University of Luxembourg have announced a new partnership, taking the form of conferences, seminars and round tables, as well as two evenings dedicated to film projections.
Each event will explore the links between contemporary art and cinema, the role of art in our current society and the notion of immaterial art.
The programme begins with the "Art in Times of Collapsing Systems" conference series, with conferences being held on Monday 4 November from 14:30-19:00 and on Tuesday 5 November 2019 from 14:30-20:00 at Cercle Cité (Auditorium Henri Beck) in Place d'Armes.
On Friday 8 November 2019, the Lycée de Garçons Limperstberg will host a conference, round table and discussions as part of the event "Oeuvres (Im)matérielles", from 13:00-18:00 in its Salle des Fêtes.
The Cinémathèque will then host two evenings around the theme of "Arts et Cinéma: Résonances et « Cinématières »" on Saturday 9 November and Sunday 10 November 2019. Saturday's event will start with a conference at 20:00 followed by a screening of the film "24 Frames" (Abbas Kiarostami, 2017) at 21:00. On Sunday at 17:00, there will be a screening of the film "Psycho" (Gus Van Sant, 1999). The event looks at aspects of the circulation of images and artistic relations in the works of Marcel Duchamp, Douglas Gordon, Pierre Huyghe, Alfred Hitchcock, Peter Tscherkassky and others.
All events are free of charge. For further information and to register, e-mail rsvp@luxembourgartweek.lu.
Luxembourg Art Week 2019 will be taking place from 8-10 November at the Halle Victor Hugo in Limpertsberg.