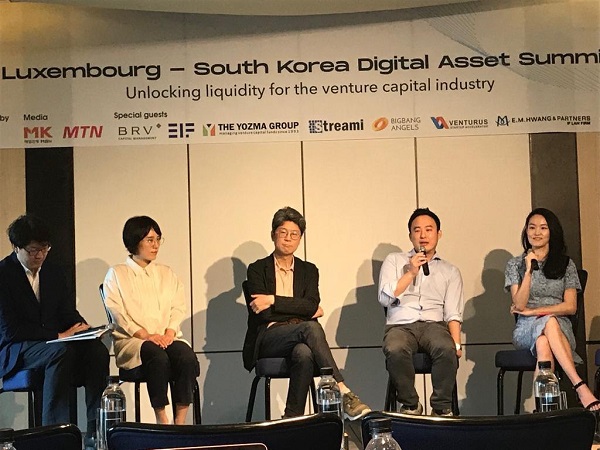 Digistal Asset Summit in South Korea;
The official trade mission of Luxembourg to South Korea is taking place between 15 - 18 July 2019; on Wednesday 17 July, the Luxembourg - South Korea Digital Asset Summit, one of the Mission's agenda events, was organised by VNX Exchange, a Luxembourg-based marketplace for digital assets backed by VC portfolios: the summit facilitated in-depth discussion about the development of digital assets and the new opportunities for unlocking liquidity for the venture capital industry.
The trade mission is organised by the Chamber of Commerce of the Grand Duchy of Luxembourg in close cooperation with the Ministry of the Economy of Luxembourg and is led by Luxembourg's Deputy Prime Minister and the Minister of Economy, Étienne Schneider.
"We are looking with great enthusiasm in developing relations between Korean and Luxembourgish companies. This Economic Mission is aiming to be a platform to strengthen existing business ties and explore new opportunities in the fields of trade, investment and research cooperation," said Carlo Thelen, CEO and Director General of the Chamber of Commerce of Luxembourg.
"South Korea is at the forefront of technology and accessible investments. We consider this market as strategic for VNX Exchange where we can present a successful and practical use case of blockchain technology," said Alexander Tkachenko, founder and CEO of VNX Exchange and General Partner at 2be.lu VC fund.
The Summit brought the best experts from Luxembourg, such as Michael Jackson, former COO of Skype and former Partner of Mangrove Capital, currently Director at AXA, Volvo, KNEIP, Blockchain.com, Nitan Pathak from the European Investment Fund (EIF) and Alexander Tkachenko, General Partner of 2be.lu VC fund and founder and CEO of VNX Exchange.
"We can see revolutionary changes in the way financial technology will be used. They are opening new unprecedented opportunities for traditional markets such as venture capital and foster the development of the entrepreneurship globally regardless of borders," said Michael Jackson.
The special Korean guests who participated in discussions were Yoon Kwan, Founding Partner of BRV Capital Management; Chris Hwang, President of Yozma Group Korea; Junhaeng Lee, CEO of Streami, one of the leading blockchain companies in Korea, and CEO of GOPAX, one of the largest Korean crypto exchanges, as well as Korean accelerators: Michael (ByungSun) Hwang, Managing Director at Bigbang Angels and Pearl Kim, Chief of Venture Capitalist at Commax Venturus.
"That's great that we can have a Luxembourg – South Korea dialogue between investors and technology leaders during the Digital Asset Summit. The opportunities which can bring digital assets for investors and the VC industry are just amazing" said Yoon Kwan, Founding Partner of BRV Capital Management. "With the help of companies such as VNX Exchange, Korean start-ups will be able to access funding, and Korean VC and accelerators can get liquidity."