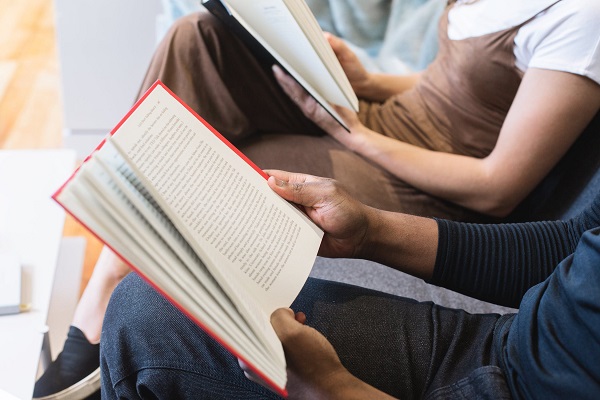 Credit: Pexels
Chronicle.lu recently reached out to Luxembourg-based book club organisers to learn more about their various groups; this week's article will conclude this article series, with BookXX Club, Infinite Pages and LGBTIQ+ Book Club.
The name "BookXX Club" references the "two X chromosomes" from the LuXX EU women's network, whose launch event in summer 2019 inspired Veronica Tirpea to found her own space and bring women working at the EU institutions closer together. Veronica told Chronicle.lu that "it was there that the founder, Pauline Kranendonk, read a quote from one of my favourite authors, Chimamanda Ngozi Adichie" and that this motivated her to contribute to this network by allowing women to read books by female authors and share their thoughts and feelings about them. "Needless to say, the first book up for discussion was Adichie's We should all be feminists."
All LuXX EU women's network members are welcome to join the book club and due to the members' word-of-mouth recommendation, there are always new guests attending meetings. While the book club is reserved for members of the EU women's network, those interested in it can write to the network via email: EU-LUXX-EU-NETWORK@ec.europa.eu.
Veronica praised the commitment and motivation of her core book club members (about six people) who come to every meeting during their lunch break discussion at the library. Though they mostly prefer fiction, they often alternate between fiction and non-fiction. Their main principle is to read books written by women - although Veronica said the group is open to "anything relevant to women today". They are currently aiming to meet on the last Wednesday of the month in Café Littéraire Le Bovary in Luxembourg-Weimerskirch.
The latest book they read was the memoir of a Holocaust survivor, Edith Eger, who shared her story, The Choice: Embrace the Possible, describing the choice of how to live "in freedom of spirit or in shackles". The group has read essays (Mary Beard, Rebecca Solnit), novels (Margaret Atwood, Bernardine Evaristo, Toni Morrison), memoirs (Gloria Steinem, Edith Eger), poems (Rupi Kaur, Wendy Winn) and other writings. The club's next meeting will focus on the work of the journalist and author Victoria Amelina, who was recently killed in Ukraine after a Russian missile attack.
Infinite Pages was founded by two friends and long-time Luxembourg residents, Dermot Doyle and Yamen. This book club allows various regular members to organise their own book discussions tailored to their own interests and preferences. This translates into a wider variety of book picks and more flexible attendance dates. The club has a WhatsApp group but also a Meet Up group for those interested.

"The club has been going strong for a few years, providing community connection during the COVID-19 pandemic and regular weekend catch-ups since then," Rom, a book club member, told Chronicle.lu. Members discuss both fiction and non-fiction, namely "all kinds of books, from science fiction to classic literature, self-help to feminism, economics to history".
The LGBTIQ+ Book Club was founded in 2021 by Otilia Dragan, with the aim of creating a welcoming space for readers to explore diverse voices in literature and books written for, about and by people from the LGBTIQ+ community. At first, the club was strictly online, mainly due to the COVID-19 pandemic. After the group started meeting in person, there were some issues related to finding a suitable space for regular meet-ups and it momentarily disbanded. It is now available on Meet Up again and will soon be available on Instagram.
In June 2023, the Centre LGBTIQ+ CIGALE offered the book club a space in its library, which is why the LGBTIQ+ Book Club is now due to start again from September onwards. The club focused mainly on fiction in the past, but the founder's new plans involve the possibility for reading non-fiction and aim to include films and thematic meetings to go beyond just the discussion of one book. The goal is to delve deeper into each book's overarching themes and topics and foster community building through curiosity and learning.
This series has looked at several English-language book clubs in Luxembourg, but others exist. These include The Lux Life book club (available on Facebook, founded by Marina Lai Lentz) and The Anglican Book Club (run by the Anglican Church of Luxembourg), which meets five to six times a year to discuss philosophical books and related themes, usually on Thursday evenings and mostly via Zoom. Various book shops and libraries in Luxembourg also organise their own book clubs, for example the Ernster Book Club. This club is open to all and meets three times per month (meetings take place in German, French and English).