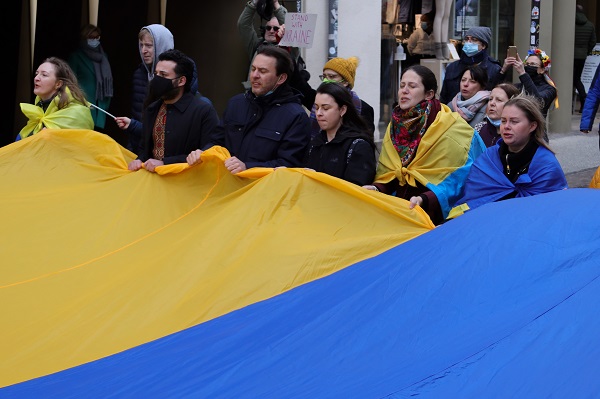 Protest in Luxembourg City, 24 February 2022; Credit: Ali Sahib
On Friday 11 March 2022, the Luxembourg Ministry of Foreign and European Affairs, the Ministry of Labour, Employment and the Social and Solidarity Economy and the Ministry of Education, Children and Youth clarified details concerning the rights of and procedure to be followed for people fleeing the war in Ukraine.
The temporary status offered is a specific status activated at European level for people who have fled the war in Ukraine. It is accessible to people who resided in Ukraine before 24 February 2022 and who have arrived in Luxembourg since this date, or shortly before.
It concerns Ukrainian nationals and their family members, as well as nationals of third countries other than Ukraine who have resided in Ukraine, in so far as they are unable to return to their country or region of origin in safe and sustainable conditions.
Applications are to be submitted to the Immigration Department of the Ministry of Foreign and European Affairs; the processing of applications began on 10 March 2022. The ministry recalled that those concerned cannot appear spontaneously at the premises of the Directorate of Immigration but only by appointment. It is not necessary to contact the Directorate of Immigration to request such an appointment; appointments will be assigned, as they arise, to people fleeing Ukraine who have reported their presence in Luxembourg.
More detailed information on the procedure to be followed for the introduction of temporary protection is available online at: https://guichet.public.lu/fr/citoyens/immigration/ukraine/protection-temporaire.html.
The temporary status gives those concerned the right to work in Luxembourg: they do not need to apply for a temporary work permit and can thus freely access the job market in Luxembourg, as long as their temporary certificate is valid. As soon as they have formally obtained their temporary status, those concerned can also register as job-seekers with Luxembourg's unemployment agency (ADEM), by e-mail: info@adem.etat.lu or by tel: 2478-8888. Employers can contact the Employers Service directly via tel: 2478-8000 or by email: employer@adem.etat.lu.
Children fleeing Ukraine who are under the age of 18 have the right to access Luxembourg's education system under the same conditions as Luxembourg nationals. Schooling is compulsory in Luxembourg from the age of 4 until the age of 16. Information on the schooling of children aged between 3 and 19 is available from the SECAM-CASNA services of the Ministry of National Education, Children and Youth via telephone, in English by tel: 2477-6570 or in Ukrainian at tel: 2477-6976.
Beneficiaries of the temporary status also have access to services of the National Reception Office (Office national de l'accueil - ONA), addressing issues including housing, food and clothing, as well as a monthly allowance and access to medical care.
All information relating to the reception of people who have fled the war in Ukraine is available on the following website: www.maee.lu/ukraine.