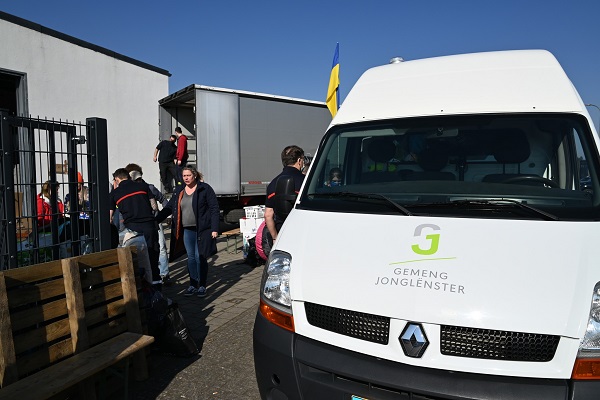 The private initiative of Suzanne Ehinger, supported by the municipality of Junglinster; Credit: Commune de Junglinster
Since the publication of our previous article on some of the ways in which people in Luxembourg can support the Ukrainian population amid Russia's invasion, a multitude of new initiatives have sprung up across the Grand Duchy to help Ukrainians fighting in or fleeing the war.
LUkraine asbl, a non-profit organisation representing the Ukrainian community in Luxembourg, is the most active organisation in the country working to coordinate support efforts. The non-profit is organising regular protests – the next one is taking place this afternoon (at 15:00) in Place de Clairefontaine in Luxembourg-Ville – and raising funds for Ukrainians in need. It also represents the needs and concerns of Ukrainians in discussions with Luxembourg government officials, works together with the government and several other partners to coordinate assistance and has set up various support groups on Facebook (e.g. for offers of and requests for support and to pair refugees with host families), as well as a hotline (tel.: 288-05595) and a dedicated online platform (help.ukrainians.lu) with regular updates on ways to help and most-needed donation items.
Alongside these efforts, several Luxembourg municipalities, private individuals, businesses and charities have set up initiatives, often in collaboration with LUkraine asbl, in solidarity with the Ukrainian people.
Hôpitaux Robert Schuman
Hôpitaux Robert Schuman (HRS) recently teamed up with LUkraine asbl and POST Luxembourg for a charity collection campaign. The first two lorries carrying medical supplies and other necessities provided by Santé Services SA left on Friday 4 March 2022 for the Ukrainian population. LUkraine asbl confirmed that a third lorry full of donations of equipment dropped off by the Luxembourg public at Hôpital Kirchberg will depart on Monday 7 March 2022.
The HRS invited its employees and sub-contractors to make a financial donation either directly to LUkraine asbl or when visiting the HRS company restaurants, which Santé Services would then use to buy essential items. Members of the public are also invited to make a material donation at the HRS collection point located at Hôpital Kirchberg (at the "Adagio" building reception platform – entrance via Boulevard Pierre Werner), which is open every day from 08:00 to 18:00.
According to HRS, the most needed items at present are: first aid and medical equipment to treat injuries; medication (painkillers, anti-inflammatories, antibiotics, baby medicines) in complete boxes; torches, headlamps, old mobile phones, batteries and power banks; sleeping bags, sleeping / sports mats to sleep on; feminine and baby hygiene products; non-perishable food (including baby food and pet food). Clothes are not needed at present.
Hôtel Perrin Luxembourg
Hôtel Perrin Luxembourg recently took in three refugee families from Ukraine. The hotel management confirmed to Chronicle.lu that they had reached out to LUkraine asbl to offer their help if needed. The following day, three families (a total of fourteen people) arrived at the hotel. Eight stayed overnight, whilst one family of six was driven to a host family a few hours after their arrival. A student volunteer drove the families to the hotel in Luxembourg-Gare.
The hotel management added that the families currently staying there are expected to join host families or be transferred to an apartment. At present, Hôtel Perrin Luxembourg is providing the refugees with food, whilst LUkraine asbl has provided them with toothpaste and toothbrushes.
Sales-Lentz
Following the Russian invasion of Ukraine last week, Julien Doussot, CEO of Telecom Luxembourg, and his wife set up the non-profit organisation Slava Ukrayini Luxembourg with the goal of mobilising actors for the emergency repatriation of Ukrainian families affected by the war. Earlier this week, Luxembourg-based private bus and coach company Sales-Lentz agreed to send one of its buses and five drivers to the Polish-Ukrainian border, carrying food and care products on the way there and bringing refugees back to the Grand Duchy, as part of this initiative. Tango (Telecom Luxembourg) provided the drivers with free SIM cards for their journey.
On Friday, the Sales-Lentz bus arrived at its destination and delivered more than 1.5 tonnes of clothing, food, milk, water and hygiene products to aid associations at the Ukrainian border. The transportation company confirmed that its drivers and several refugee families were now on their way back to Luxembourg.
Municipalities & private initiatives
The municipality of Junglinster is currently supporting the private initiative of Suzanne Ehinger, who is collecting items such as painkillers, first aid material, hygiene items, sleeping bags, torches and batteries to transport, with the help of CGDIS Junglinster, to the Poland-Ukraine border and Kyiv. On Friday 4 March 2022, the first round of donations arrived in Konz (Germany), from where they are being taken onwards to the Polish-Ukrainian border and Kyiv, respectively. Donations (excluding clothes) are still being accepted at the municipal depot (8 Rue Ronnheck, L-6118 Junglinster) during working hours (08:00 to 17:00).
Similarly, the municipality of Strassen confirmed that its minibus carrying medication, canned food, power banks, batteries and sleeping bags, among others, departed for Poland on Friday. The bus will return to Strassen on Sunday evening, bringing back several Ukrainian refugees. The municipality has also called on volunteers to host these newcomers "until the situation is clearer". This is another example of a private initiative receiving municipal support. Those wishing to host Ukrainian refugees are invited to contact the municipality of Strassen via email: nico.pundel@strassen.lu or via tel.: 691-983745.
Local entrepreneurs David and Lynn Holland are among several private individuals to have taken the initiative to drive to the Poland-Ukraine border, bringing with them much-needed supplies such as nappies, feminine hygiene products, baby formula, first aid kits and sleeping bags to Ukrainians, as well as bringing refugees back with them to Luxembourg on Sunday evening.
During a press conference on Friday, the City of Luxembourg (Ville de Luxembourg – VdL) also confirmed that it had made available an old preschool in Rollingergrund and rented a hotel for the temporary housing of Ukrainian refugees.
A separate article is set to follow on the many solidarity and fundraising initiatives set up by charities in Luxembourg.