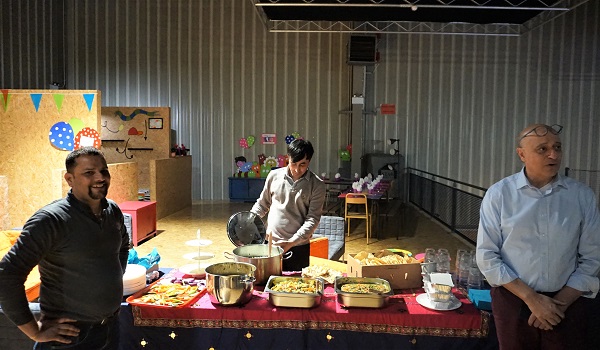 Chefs Dawadi Narayan and Naniram Giri with Jas Madhur, founder of Langar Society of Luxembourg; Credit: Jazmin Campbell
On Friday evening, the Langar Society of Luxembourg held its second "Langar Supper" at Jumpbox Trampoline Park in Contern.
Close to 20 individuals from different backgrounds and ages gathered at the trampoline park for this secular version of a Langar, a Sikh community kitchen (traditionally held in temples or other places of worship called "Gurdwaras") where visitors can share a free vegetarian meal regardless of their beliefs, gender, ethnicity or other circumstances.
Set up by British-Canadian national and Luxembourg resident Jas Madhur and friends in 2019, the Langar Society of Luxembourg held its first such meal last August. On this occasion, Jas Madhur, who moved to Luxembourg in 2011 and whose family is of Indian origin, cooked a range of lentil-, rice- and vegetable- based dishes mixed with spices.
Following the success of this first Langar and the desire to hold at least four such meals per year, the Langar Society decided to hold a second edition on Friday 28 February 2020. This time, Nepalese cooks Dawadi Narayan and Naniram Giri provided various dishes, such as dahl, vegetable curry and Palak Paneer (spinach and ricotta dish), accompanied by rice, samosas, salad, papadum and naan bread. Chai tea was also served, as well as the popular Indian sweets gulab jamun (milk-based dessert) and Badam Burfi (almond fudge) for dessert. Adding to the community feel of this event was the fact that some of the guests offered the chefs the use of their kitchen to prepare the meal.
Guests from across the Luxembourg community (or indeed communities) shared ideas, as well as food, and got to know one another over this informal and inclusive meal. Indeed, people from all works of life are invited to participate in future such events by helping with the cooking and meal preparation and by eating together and conversing with one another.
In order to continue to hold such events, the Langar Society is always looking for different locations with cooking facilities. As such, anyone wishing to host a Langar, just as Jumpbox Trampoline Park did on Friday evening, is asked to contact the association via email: langar.soc.lux@gmail.com.