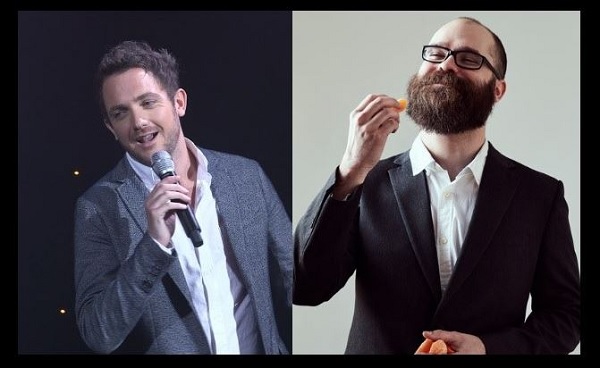 Comedians Danny O'Brien and Chris Betts; Credit: InternationalComedians.com
The next English-language Luxembourg Comedy Showcase will take place on Saturday 21 September 2019 at 21:15 at the Marionnette (15 rue de Strasbourg, Luxembourg-Gare).
The popular Luxembourg Comedy Showcase, organised by Joe Eagan & InternationalComedians.com, is returning with more stand-up comedy acts coming to perform in Luxembourg in English. This show welcomes headline acts Danny O'Brien (Ireland) and Chris Betts (Canada). The event will also feature Joe Eagan (Canada) as Master of Ceremonies.
Danny O'Brien has been performing stand-up comedy for over a decade, headlining regularly at top comedy clubs and festivals to worldwide audiences. As the resident host and owner of The Comedy Crunch in Dublin, one of Ireland's most successful comedy clubs, his friendly, anecdotal style draws in an audience and brings on the big laughs with ease.
Chris Betts has performed throughout the world and was a finalist in both the Leicester Square Theatre New Comedian of the Year competition and the 2015 NATYs (New Act of the Year) at the Bloomsbury Theatre.
Doors open from 19:30 for those dining and from 20:00 for those just coming to see the show.
Eating guests can reserve a table via tel.: 481-217 (book a table time and arrive by 20:15 to get food orders in before the show).
Tickets cost €19 online or €25 at the door. Tickets are available from lux@internationalcomedians.com. There are also 70 earlybird tickets on sale for €17 until midnight on 15 September. Earlybird tickets are available from https://billetto.eu/en/e/earlybird-tickets-luxembourg-comedy-showcase-sept-21-tickets-381152.