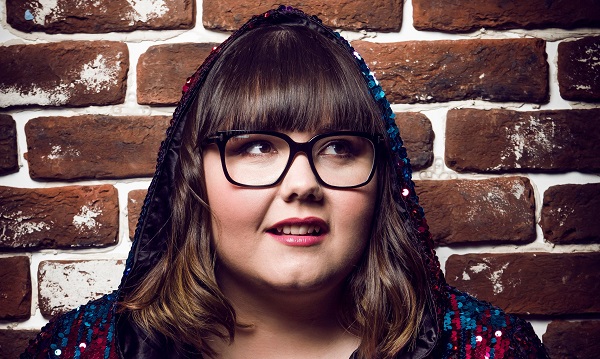 Sophie Hagen; Credit: Matt Crockett
This year's Humour for Peace comedic festival will take place from 10-22 March 2019 at neimënster.
Originally dedicated to Walid Hassan, the Iraqi comedian murdered in 2006, the Humour for Peace festival, now in its 13th edition, welcomes comedians of international stature. This year will see comedians Sophie Hagen, Anny Hartmann, Jean-François Derec, Laurent Ruquier and Jemp Schuster take the stage.
First on the agenda is London-based, Danish comedian Sofie Hagen's one-woman-show "Sophie's Blurb" in English, taking place this Sunday 10 March 2019 from 17:00. Tackling taboo subjects with charm, razor-sharp timing and a hugely likeable personality, Sofie Hagen is revered in her home country and across the UK. A multi award-winning comedian, she has won multiple Best Newcomer awards and appeared on TV and radio in both Denmark and England.
German political columnist Anny Hartmann's will then present her new show, "NoLobby is perfect", on 18 March 2019 at 20:00. Straightforward and unadjusted, Hartmann has a sharp mind and an equally sharp tongue. "NoLobby is perfect" denounces the relations between political powers and multinationals through comedy. The show will be in German.
On 19 March 2019, Jean-François Derec, former band member Laurent Ruquier, will present his show "Le jour où j'ai appris que j'étais juif" on being Jewish. The show, in French, will begin at 20:00.
The penultimate event of the festival will see Luxembourg author Jemp Schuster put on his play "Autopsy" on 20 March 2019. The play tells the story of an ill woman in an enclosed space. As she recounts her life stories, her childhood, the play presents an autopsy of a complex life. The play is in Luxembourgish.
The festival will end with the traditional "Nuit blanche de l'humor noir", showcasing the one-woman show "Amoutati. La Dame de Fer", on 22 March 2019 at 20:00. Amoutati embarks us on a journey punctuated by memories of her mother, Michelle. This is the beautiful mischievous and moving portrait of a brave African mother who fights for the future of her four daughters. Details of a second show will be announced soon.
Each show will take place in Salle Robert Krieps in Neumünster Abbey.
Tickets cost €22, €9 (reduced) or €1.50 with the Culture Pass. The full programme and tickets are available online at http://www.neimenster.lu/Culture.