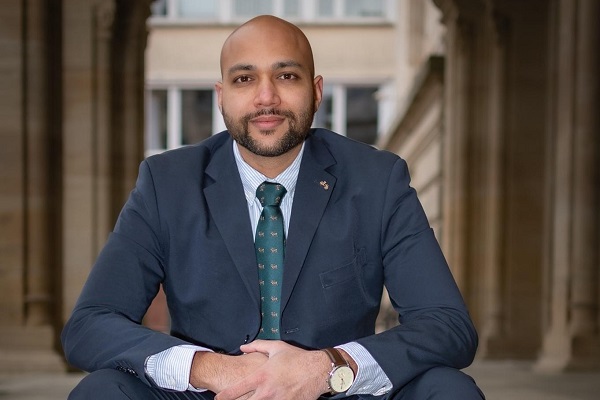 Sahil Goel, IAL President; Credit: Fernand Schmitz
Chronicle.lu recently had the opportunity to speak with Sahil Goel about his new role as President of the Indian Association of Luxembourg (IAL).
Sahil Goel's appointment follows the decision of his predecessor Selvaraj "Selva" Alagumalai to step down from his role as IAL President after ten years. The former president said in a Facebook post: "I now believe it is time for new leadership to take the helm and bring fresh perspectives and ideas to our beloved association. I have full confidence in the capable hands that will guide the Indian Association of Luxembourg into the future."
On 7 October 2023, IAL held its Annual General Meeting (AGM), during which the association decided to appoint a new president, Sahil Goel, as approved by all those present. In a Facebook post announcing the news, Mr Goel thanked his predecessor(s) and "the entire IAL team for their exceptional efforts of many years in uniting the Indian community [in Luxembourg] through successful cultural events".
Chronicle.lu: Please tell us a bit about your background and your previous involvement in IAL.
Sahil Goel: Namaste, Moien! I am Sahil Goel. I am of Indian origin, coming from Karnal city, also known as the rice bowl of India, situated in northern India in Haryana state. Being an expat in Luxembourg, I entered this vibrant city as an MBA student in 2017. I am also a naturalised Luxembourger since 2022.
I come from a strong volunteering background, I was part of Vodafone Group CSR activities in India. In Luxembourg, I have been actively involved with vivid associations: Indian Business Chamber of Luxembourg (IBCL), tech community, cricket club, political wing (CSV International), Alumni lead of MBA school - Sacred Heart University, Luxembourg campus. My involvement with IAL started in early 2018 and by 2019 I was an active committee member. I have been actively engaged in organising various IAL events.
Chronicle.lu: In your new role as President, what is your vision for IAL? What are your and the IAL Executive Committee's current priorities?
Sahil Goel: A strong foundation was laid by IAL's predecessors (Shri Ambi Venkataraman ji, Shri Sudhir Kumar Kohli ji, Shri Ali Asghar Sherwani ji, Shri Selvaraj Alagumalai ji). Going forward, I too wish to have envisioned that my contribution would not only help in uniting the people of India but would showcase our rich traditional Indian culture among the people of Luxembourg. Together, we can become stronger, well-managed and more organised, spreading happiness and love by conducting various cultural activities. I believe in this famous quote, attributed to Henry Ford (1863-1947) and Edward Everett Hale (1822-1909): "Coming together is a beginning, staying together is progress, and working together is success."
Our current priorities are keeping the community always enlightened by organising vibrant Indian cultural events that cater to the social and cultural interests of the IAL audience. [This] comprises Indians and non-Indians who wish to feel a home away from home and to learn more about the vivid culture of India.
Further, since the Indian community has multi-folded over the past years, new needs and demands have always arisen. IAL shall address certain scenarios. We would have multiple workshops to work on brainstorming new strategies for the upcoming 2024 and 2025 once we complete one of our mega events of this year, Diwali, which is going to be held on 18 November 2023.
Chronicle.lu: How do upcoming events and activities fit into your longer-term vision/strategy for IAL?
Sahil Goel: IAL is a 32-year-old community, we are open to everyone. I am sure when one dives into Indian culture, there's a lot to it and it's quite hard to define in just one line. IAL is active around the year by organising social and cultural events for the community. Events that would perfectly align with the growing IAL audience - supporting them, bringing them closer and providing them with the needed platform.
Chronicle.lu: One such event, the Diwali Gala, was announced recently and is taking place in November. What makes this event unique in Luxembourg / what can attendees expect this year?
Sahil Goel: Being the very first event after my Presidentship I feel there is a lot to do for Diwali and IAL will not leave any stone unturned. This year, our Diwali Gala event will be celebrated on 18 November at the Centre Culturel - 26 Rue Saint-Hubert, 1744 Luxembourg-Merl. The details are present on our official Facebook page and also on our website: https://www.ial.lu/.
We have also invited the Indian Ambassador and some key members from the Indian Embassy in Brussels who will grace the event with their presence. Indeed for me, this event would be a great learning curve for the new beginning.
This year's Diwali event will start with spiritual prayers. We will then celebrate the festival by watching the vibrant dance performances from The LuxInDancers and from various regional associations, by enjoying the Indian dinner from the Jay Nepal restaurant and by dancing to the Bollywood music by DJ Varun. All of this will happen on the evening of 18 November. We shall also record the entire event, which will be later uploaded on IAL's official website for those who missed being part of this event.
Chronicle.lu: What other IAL events are on the horizon?
Sahil Goel: We have already started logistic planning for certain events in 2024 and we will try to add or collaborate for more social and cultural initiatives in 2024/2025. I can list a few activities [here]: participation at the CLAE event in February 2024; International Yoga Day in June 2024; Summer Holi in July 2024; India Day in September 2024; Diwali in November 2024 [to be performed on "quite a large scale"; for collaboration / sponsorship details: info@ial.lu].
The current members of IAL's Executive Committee are as follows: Raju Sati; Niraj Trivedi; Sunita Trivedi; Kavita Ogale; Kavita Munnsad; Arathi Shankar; Jyoti Verma; Vishwas Sharma; Gopi Radhakrishnan; Kamal Panchal; Swapnil Sneha.