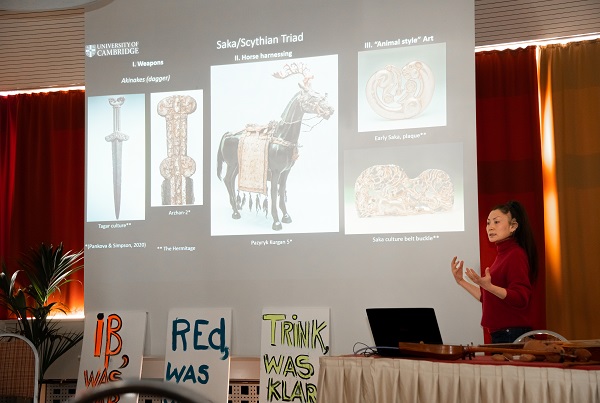 Saltanat Amir; Credit: Kazakhstan-Luxembourg Cooperation asbl
In March 2023, Kazakhstan-Luxembourg Cooperation asbl (KazLux) launched a new platform, "The Roots", to facilitate and encourage reflection on the role of culture, art, history and other subjects in the modern world.
Chronicle.lu reached out to KazLux Co-President Nurgul Tursinova to learn more about this new platform and its goals.
Chronicle.lu: When and why did you decide to launch "The Roots"? What is the main goal of this platform?
Nurgul Tursinova: Last year, we came to the understanding that we wanted to introduce a new, effective and sustainable form of socialising and integration. So, we developed a concept of "The Roots" based on three pillars: socialising, expertise and entertainment. The aim of the offline platform is to have discussions on "roots" of social phenomenon, give a floor to different stories and serve as a stage for communities to share their roots and heritages. It is never [simply] socialising. Each edition of the platform has a unique social topic. Experts in the fields, renowned professionals, artists are invited to lead its sessions, offer workshops. Wherever we gather people, there should be enough room for entertainment. That is why we put importance to music and other means of art.
Chronicle.lu: What makes "The Roots" unique in Luxembourg, in your opinion?
Nurgul Tursinova: Luxembourg is a pragmatic and business-oriented country. However, pure business is not enough in our modern multicultural and complex society. That is why Luxembourg committed to nurture the human dimension.
While being active in vibrant cultural life of Luxembourg, Halim [Titsaoui; KazLux Co-President] and I never came across an activity offering social discussions while keeping [it] entertaining. "The Roots" is a TEDx-like platform but an engaging one, where the line between the speaker/expert and the audience is blurred. We craft it in the form of a patchwork, parts of which are independent from each other, but in combination give completeness to the whole.
Chronicle.lu: Is the focus on Luxembourg-Kazakhstan relations or on the broader multiculturalism of Luxembourg? Who is the target audience?
Nurgul Tursinova: KazLux asbl has different forms of events. "The Roots" is not about Luxembourg-Kazakhstan relations. It is about us as a Luxembourg association aiming to bring different communities together. Our target audience is everyone. Indeed, the main idea is to praise multiculturalism. In our view, the main enemy of multiculturalism and of "living together" is generalisation of cultures and ignoring their details. That is why we will not shy away if needed to put focus on one or more cultures or communities, depending on a topic. It will be easier, of course, for us to source ideas from our Kazakhstan and Central Asian background.
Chronicle.lu: What feedback did you receive for your first event in March? What were the organisational challenges (if any) of putting together this first event?
Nurgul Tursinova: The first edition consisted of sessions - art, history, storytelling, music and social talks - and we devoted it to "Decolonisation of mindset". The best feedback was probably the reaction of the audience to each performance: there were tears, active participation and appreciation.
Only small examples of the performances: Egberdien Van Der Peijl, a conceptual artist [and] President of the European Academy of Arts of Grand Duchy of Luxembourg [AEA], presented her understanding of the topic through art. Her performance accompanied by the DJ music of Gulbanu Matayeva was unexpected, beautiful, touching and emotional. Saltanat Amir showed versatility, sophistication and adjustability of the Saka culture, concept of freedom and what we can learn from our ancestors. Saltanat Amir, an archaeologist [and] PhD researcher at the University of Cambridge (UK), was a project curator of the exhibition at the Fitzwilliam Museum named "Gold of the Great Steppe". The exhibition was shortlisted by the Apollo magazine among the best six exhibitions of 2021 in the world. The audience simply loved a master class on ancient musical instruments offered by renowned musicians from Kazakhstan, Togzhan Zhakhin.
Another example of feedback: one of our guest musicians Aidana Madyar from Vienna Music and Performing Arts conservatorium proposed to have an edition with the same topic in Vienna in collaboration with their Austrian association. If we can distribute the concept "made in Luxembourg" with our vision in other EU countries, it will be a wonderful development for the platform.
The main and usual challenge of an association is getting the right venue for the event. Declared cultural centres of Luxembourg, unfortunately, are never accessible for us. The second challenge was to get financing for a concept which never existed before.
Chronicle.lu: What support have you received for this new platform? Do you plan to team up with other local institutions or organisations for future events?
Nurgul Tursinova: We received the support of the Ministry of Culture and the Ministry of Family Affairs, Integration and the Great Region of the Grand Duchy of Luxembourg for the first edition. We appreciate it and we would want to continue working with them. However, to make the platform sustainable and reach our goals, we [aim] to have partners and sponsors. It is also very important for us to partner with organisations like the University of Luxembourg, museums (Mudam, MNHA), big galleries and other social and cultural organisations of Luxembourg.
Chronicle.lu: What other events and activities do you have planned in the coming months as part of "The Roots"?
Nurgul Tursinova: We aim to issue the second edition in autumn 2023. The topic of the next session will be "Language and self-identity".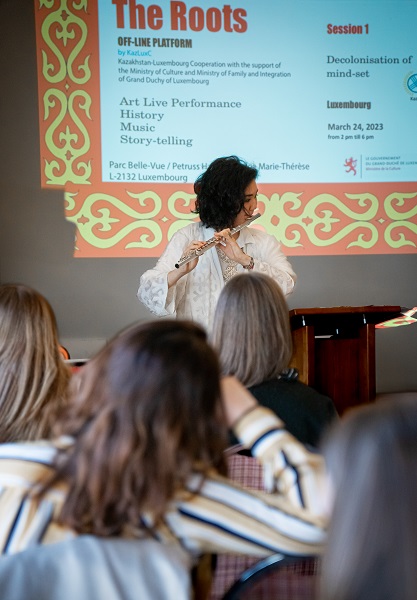 (Pictured) Aidana Madyar