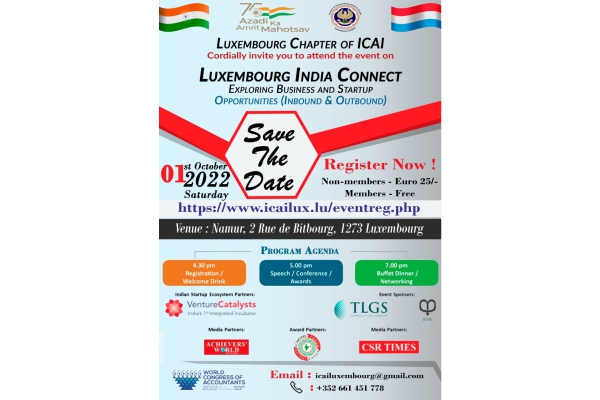 Credit: ICAI-Lux
The Luxembourg Chapter of the Institute of Chartered Accountants of India (ICAI Lux) has announced that its first "Luxembourg India Connect" event is taking place on Saturday 1 October 2022 at Namur in Luxembourg-Hamm (2 Rue de Bitbourg, L-1273).
The Institute of Chartered Accountants of India (ICAI) is a premier accountancy body and one of the largest in the world. It has over 35 chapters globally including the one Luxembourg, ICAI Lux, which launched in June 2020. The first in-person event of ICAI-Lux had to be postponed to 2022 due to COVID-19-related restrictions.
The Luxembourg India Connect event is aimed at facilitating and showcasing the ease of doing business and opportunities in India and Luxembourg. It will also showcase the startup ecosystem of India and include "business pitches" by Indian startups.
Speaking to Chronicle.lu, Anjani Ladia, Chairman of the Luxembourg Chapter of Institute of Chartered Accountants of India (ICAI Lux), said: "This event will be a launch pad for the local business and investment community in Luxembourg to know more about the opportunities that India has to offer. The event will cover the Indian Government's new focus sectors, new reforms, changes implemented for ease of doing business in India and what to expect in the Indian environment with some key considerations". He emphasised that "the event evening will give the vibrant feeling of the Indian diaspora and will facilitate and honour individuals / organisations who are living in Luxembourg and over the years contributed to the growth and recognition of India in Luxembourg with the first edition of 'Indo-Luxembourg Achievers' Awards in association with Indian Achievers' Forum, India".
Mr Ladia worked with the Big Four accounting firms in London, New York and India, before settling in Luxembourg in 2012. He has in-depth knowledge in Investment Management and Private Equity Real Estate Industry with a focus on providing accounting and audit services. In his voluntary role as the Chairman of ICAI Lux, he facilitates business development activities between India and Luxembourg.
The upcoming Luxembourg India Connect event will bring together over 100 professionals from Luxembourg business and startup community, as well as representatives of Luxembourg's Ministry of the Economy and the Luxembourg Chamber of Commerce and other Trade and Invest bodies of Luxembourg, amongst others.
The conference and awards ceremony will be followed by a buffet dinner and networking session.
Registration is now open at https://www.icailux.lu/eventreg.php. Tickets for non-members cost €25 per person (€20 for young people aged twelve to eighteen).