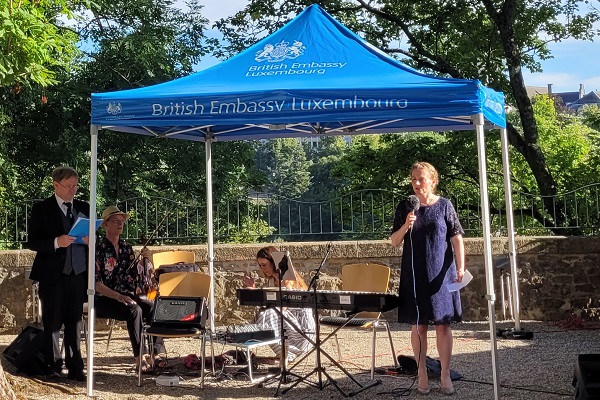 (Above) Lousie Benjamin, President of the BLS; (below) Fleur Thomas, British Ambassador to Luxembourg; Credit: Jazmin Campbell
The British-Luxembourg Society (BLS) held its annual Summer Reception at the British Ambassador's Residence on Tuesday evening.
The event, organised by the BLS Patrons and Council together with the British Embassy in Luxembourg, formed part of the non-profit organisation's 75th anniversary celebrations.
On the agenda were speeches by BLS President Louise Benjamin, British Ambassador and BLS Patron ex officio Fleur Thomas and BLS Vice-President Chris Atkinson, poetry readings, a presentation by LUkraine asbl and live music by Mia and the Moon.
In her welcome speech, Louise Benjamin thanked the BLS Patrons and Council, event sponsors and her entire team at BLS. She then presented upcoming BLS 75th anniversary celebrations, which include a gala dinner, a private tour of the "John Constable's English Landscapes" exhibition from the Tate gallery, which is currently on display at Villa Vauban in Luxembourg-Ville (until 9 October 2022), a guided visit to London and a historical talk later in the year. She recalled that BLS membership is open to people of all nationalities who love both the British and Luxembourgish cultures.
Fleur Thomas, the British Ambassador to Luxembourg, reflected on how her predecessor had worked hard to disseminate information related to Brexit and to strengthen bilateral ties between Luxembourg and the United Kingdom (UK) through his "#LuxUKLinks" initiative. Ambassador Thomas noted that she and her embassy team were working hard to continue strengthening these links and to promote British liberties, culture, diversity and heritage in Luxembourg – values she felt were shared by the BLS. Recent events of significance in this area included an evening reception to celebrate the Platinum Jubilee and 96th birthday of Her Britannic Majesty Queen Elizabeth II and a breakfast discussion with religious leaders in Luxembourg, both of which took place at the British Ambassador's Residence. Last weekend, the British Ambassador also took part in the Diplomats for Equality float at Luxembourg Pride Week celebrations in Esch-sur-Alzette.
In addition to the exhibition dedicated to the works of English landscape painter John Constable at Villa Vauban, recent and ongoing cultural events involving British artists and musicians in Luxembourg include a Mick Jagger exhibition at Casino 2000 in Mondorf-les-Bains (open until 31 July 2022), a solo exhibition by British-German visual artist Tacita Dean at MUDAM (open until 5 February 2023) and the performance of English singer-songwriter Boy George and his band Culture Club at Luxembourg Pride Week. The British Ambassador went on to praise the BLS' organisation of diverse and creative events.
Ambassador Thomas also highlighted efforts to support Ukraine, noting that she was in close contact with Yegor Pyvovarov, the Chargé d'Affaires of Ukraine to Belgium and Luxembourg.
She concluded by thanked BLS President Louise Benjamin for all her hard work in trying to sustain interest in the non-profit and organising various events.
BLS Vice-President Chris Atkinson then presented the winners of the BLS Queen's Jubilee poetry competition, who read their entries to those present at this summer reception.
Maria Dupin, coordinator of LUkraine asbl's initiative "Godparents of Luxembourg", accompanied by her colleagues Monica and Susanne, later presented this initiative, which offers a network of Luxembourg residents who want to do something to relieve and support newly arrived Ukrainian families as well as their hosts. "We were touched from the beginning to see the immense generosity [of residents] towards newcomers", noted Ms Dupin. She added that everyone is welcome to support this initiative in any way they can, be it by providing groceries or offering to translate, organising outings or going out for coffee with Ukrainian refugees. About 500 people have already signed up to become "godparents", but additional help is always needed.
Throughout the evening, in addition to live music and networking, attendees (over 150 in total) could enjoy Sipsmith gin and finger food.