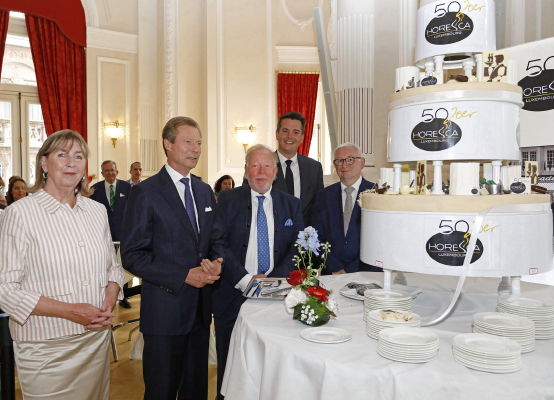 Credit: HORESCA
On Tuesday 14 June 2022, President of the National Federation of Hoteliers, Restaurateurs and Cafétiers (HORESCA) of the Grand Duchy, Alain Rix, welcomed His Royal Highness the Grand Duke Henri along with Minister for Family Affairs and Integration, Corinne Cahen, Minister for Tourism, Lex Delles, Minister of Labour, Employment and the Social and Solidarity Economy, Georges Engel, amongst other delegates, on the occassion of the 50th anniversary of HORESCA Federation at the Cercle Cité cultural centre in Luxembourg-ville.
HORESCA was created in September 1970 and the 50th anniversary celebrations were planned in 2020, but was postponed to 2022 due to the COVID-19 health crisis.
The federation represents nearly 3,000 companies with more than 20,000 employees in the Grand Duchy and according to official figures, the sector generates more than 6% of gross domestic product (GDP).
A book for the 50th anniversary
The origin of the HORESCA Federation actually goes back more than 100 years. Before 1970 there were three federations, starting with the Union of innkeepers and café owners organised in Luxembourg (Syndicat des aubergistes et cafetiers organisés à Luxembourg - Sacol) which was also called the "Wierteverband". It was Sacol that created the hotel school in Diekirch and managed it for two years before the State took over its management. The Sacol also created the fair company, precursor of the current LUXEXPO THE BOX.
Throughout history, a group of dissident members broke away from Sacol to create Hocarel, which in 1970 was the largest group in the profession.
Then came a third federation, called Horest.
The three organisations were often divided, which weakened the representation work of the sector. In order to remedy this situation, it was decided to unite. In 1970, the three federations held their general assemblies at the "Pôle Nord" where they dissolved in order to create HORESCA, on 16 September 1970. Hocarel President, Roger Scholtes, became the Director and Sacol president, Andy Felten, became the General Secretary.
In order to remember this moment as well as many important moments that followed, HORESCA published a book on the history of the federation and the sector. On more than 100 pages, the readers will find the key moments of the story as well as anecdotes. This publication, which was sent to all companies in the Horeca sector in the country, was presented during the evening and can also be downloaded from the federation's website www.horesca.lu.