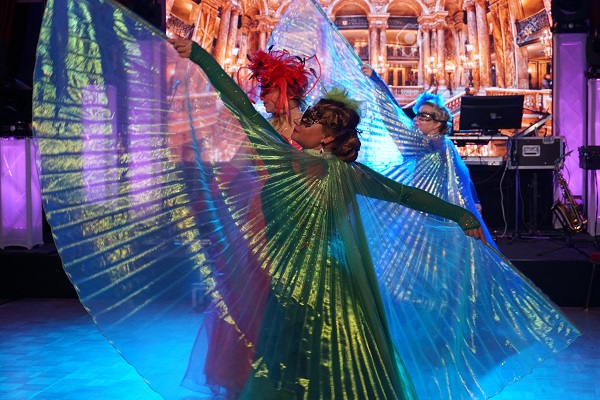 Credit: Jazmin Campbell
The 9th edition of the annual Russian Charity Ball was held on Saturday evening at Cercle Cité in Place d'Armes in Luxembourg-ville; this year's theme was masquerade ball.
Organised by the Russian Club of Luxembourg under the patronage of Deputy Prime Minister and Minister of the Economy, Étienne Schneider, and the Russian Ambassador to Luxembourg, Victor Sorokin, this year's Russian Charity Ball brought together almost 300 masked guests including dignitaries from the Luxembourgish and Russian communities. The event is considered one of the most prominent annual social events in the Grand Duchy.
Following an opening reception with champagne and canapés, masters of ceremony Nathalie Reuter, a Luxembourgish journalist and TV presenter, and Evgueny Stychkin, a Russian actor known for his roles in "God Loves Caviar" and "Trotsky" thanked the sponsors and led the evening's jam-packed programme. This year's guest of honour, Russian actor Gosha Kutsenko, presented his charity fund, STEP TOGETHER, which supports children with cerebral palsy, before inviting guests onto the dancefloor with a song.
Russian soprano Oksana Shishenina and baritone Alexey Koshelev, also gave performances, accompanied by young gymnasts from the Rythmo-Cats rhythmic gymnastics club in Luxembourg, as did Victoriya Tvardovskaya, a ballet dancer who formerly performed at the Bolshoi Theatre of Belarus and who currently works as a classical dance teacher at the Ecole régionale de musique in Dudelange.
As they enjoyed a six-course gastronomic meal prepared by Kaempff-Kohler, guests were also entertained with a presentation of Schroeder jewellery and watches, a fashion show during which F&M Model Agency models showcased designs from the Biancaneve Birdal Boutique in Bereldange and music by saxophonist Vadim Ambros and German-Russian band Goldene Sterne.
Other highlights of the evening were the silent auction (bids using iPads) and charity raffle, the latter being won by the brother of Luxembourgish footballer René Peters; the prize was Shroeder watches. All proceeds of the 2020 ball will be donated to Luxembourgish NGO SOS Villages d'enfants Monde (for its projects in Russia) and the Sunflower charity foundation for children and adults with immune disabilities in Russia. During the last eight years, the Russian Charity Ball raised a total of €374,000 for charity. The amount raised this year will be disclosed in the coming weeks.
The 9th Russian Charity Ball ended with a disco for guests to dance into the early hours. As they departed, they also received gift bags including treats such as Russian vodka.