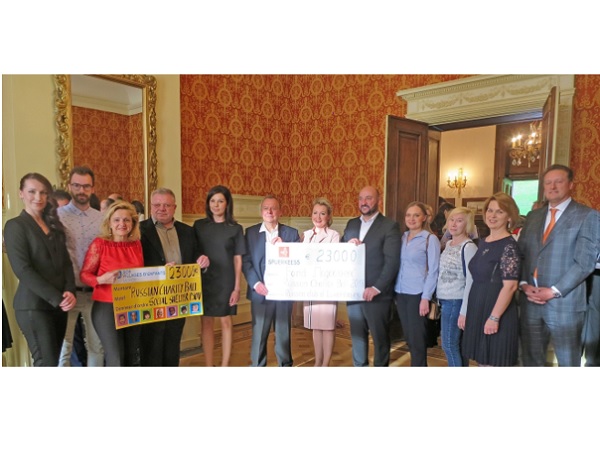 Russian Ball 2018 cheque presentation;
The Russian Club of Luxembourg will hold its 9th annual Russian Charity Ball on Saturday 18 January 2020 at 18:30 the Cercle Cité in Place d'Armes in Luxembourg-ville.
On Thursday 28 November 2019, the organising committee of the Russian Charity Ball revealed the programme, as well as special guests and sponsors of the 2020 edition. The event is organised by the Russian Club of Luxembour under the patronage of Etienne Schneider, Deputy Prime Minister and Minister of the Economy, and Victor Sorokin, Ambassador Extraordinary and Plenipotentiary of the Russian Federation to Luxembourg.
During the last eight years of the Russian Charity Ball, the organisers have donated a total of €374,000 to charity. All proceeds of the 2020 Ball will again be donated to charity. This year's two chosen charities are the Luxembourgish NGO SOS Villages d'enfants Monde (for its projects in Russia) and the Podsolnuch fund (Toutnesol).
This edition of the Russian Ball will have the theme "Masquerade Ball". As guests enter on 18 January, they will be welcomed by the music of renowned Russian accordionist Igor Berezko. The evening's hosts will be RTL journalist Natalie Reuter and Russian actor Yevgeny Stitchkin.
Guests will also have the chance to listen to the rising star of Russian opera Oksana Shishenina and baritone Alexey Koshelev, as well as watch ballerina Victoria Tvardovskaya perform her variation of "Emeralds" from the ballet "Jewels". Luxembourgish dancers Aliona Filko and Carlo Ennio Stasi will also ignite the dance floor with waltzes and tangos, which guests can learn in a master-class.
In addition, a fashion show by F & D Model Agency will present the outfits of the recently opened "Biancaneve Bridal Boutique" in Beggen and the precious jewels of long-time sponsor Schroeder Joailliers. As every year, there will be an auction and raffle.
The organisers have also announced the presence of special guest Gosha Kutsenko, a well-known Russian actor, who will sing at the evening's disco party.
The aperitif and gala dinner will be providers by sponsors and partners Kaempff-Kohler and the companies Gales and SPI Group.
For further details and to purchase tickets, visit https://www.ball.russki.lu/.