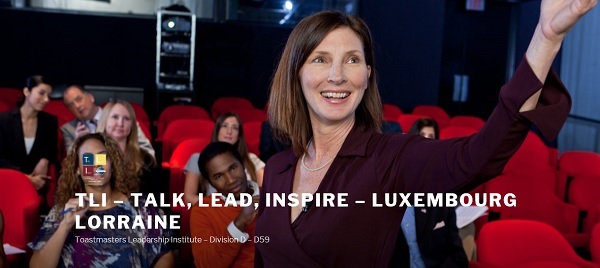 The 2nd Toastmasters Leadership Institute is being organised in Luxembourg on Saturday 19 January 2019 at the Novotel-Kirchberg (6 rue du Fort Niedergrünewald) from 13:00 to 18:00.
The twelve Toastmasters clubs from Luxembourg and Lorraine will get together for a Demo meeting, followed by Leadership and Communication workshops in English and French. This is an opportunity for attendees to improve their public speaking and leadership skills.
For non-members, this event is aimed at your personal development. It offers both Toastmasters and non-Toastmasters the opportunity to experience a live meeting, attend communication and leadership focused workshops in English and French and meet members from the 12+ clubs in and around Luxembourg.
• Part One: Witness a live demo meeting in English and French with members from all the Clubs from Luxembourg and Lorraine
• Part Two: Interactive Leadership Training by experienced Toastmasters.
This event is for you if:
- You want to become a confident public speaker and strong leader
- You want to practice your native & non-native language skills in a safe and positive environment
- You are an introvert who wants to break through your shell
- You are an extrovert who wants to learn how to contain your energy and command an audience
For details and registration (€25 until 18 Jan; €30 on the door), see https://tliluxlor.wordpress.com/ or email: tliluxlor@gmail.com