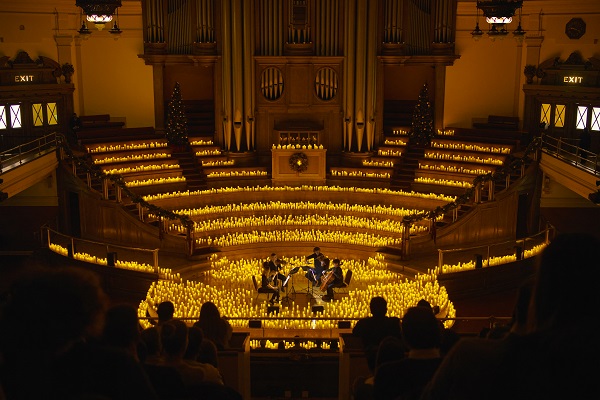 Candlelight concert in Central Hall Westminster, London (UK); Credit: Fever
Fever, a live-entertainment discovery platform, has announced that it is launching the "Candlelight" concert series in Luxembourg later this year.
Following its success in more than 100 cities worldwide, this multisensory musical experience will take place for the first time at the Conservatoire de la Ville de Luxembourg in Luxembourg-Hollerich from Thursday 12 October 2023. On the agenda is a series of exclusive performances, starting with concerts in tribute to Vivaldi, Queen and Hans Zimmer.
The first Luxembourg concerts will see the Conservatoire de la Ville de Luxembourg illuminated by thousands of candles, allowing participants to immerse themselves in a tailored programme from 12 October. According to the organisers, this concept invites a wider audience, who might never have considered attending a classical music concert, to take an interest in the most emblematic works of renowned composers and listen to the greatest hits in the history of music in a different way.
The Candlelight concerts are a series of original concerts created by Fever with the objective of democratising classical music and making it more accessible through live concerts in candlelit venues.
Ignacio Bachiller, co-founder and CEO of Fever, explained: "When we launched Candlelight concerts in 2019, Fever was already organising more traditional classical music concerts. However, we saw a need to make this musical genre more accessible, in order to to reach a new audience with an innovative approach appealing to several senses and adapted to modern consumption patterns."
This series of concerts will kick off with music by Vivaldi, Hans Zimmer and a classical interpretation of Queen in a unique atmosphere. Ignacio Bachiller added: "When the musicians address the participants directly, the link between the public, the artists and the music is much stronger. We are constantly looking for local and talented musicians who share our belief that classical music can reach a diverse audience and we demonstrate this by offering compositions for all tastes."
Originally conceived as a series of classical music concerts presenting the works of great composers such as Vivaldi, Mozart or Chopin, Candlelight today has a wide variety of themes and genres. For example, it includes tributes to contemporary artists or groups such as Queen, ABBA, Coldplay and Ed Sheeran, as well as programmes devoted to K-Pop, film soundtracks and other themes. This multi-sensory experience has also evolved to incorporate different elements such as ballet dancers and aerial artists, as well as other genres such as jazz, soul, opera and flamenco.
Programme
Thursday 12 October 2023 @ 19:00: Les 4 Saisons de Vivaldi (Vivaldi's Four Seasons), featuring the Marolles Ensemble's string quartet. (SOLD OUT)
Thursday 12 October 2023 @ 21:00: Hommage à Queen (tribute concert), featuring the Marolles Ensemble's string quartet.
Thursday 18 January 2024 @ 19:00: Hommage à Hans Zimmer (tribute concert), featuring pianist Michelle Lynne.
Ticket prices start at €20. Further information and tickets are available online at https://feverup.com/fr/luxembourg/candlelight.