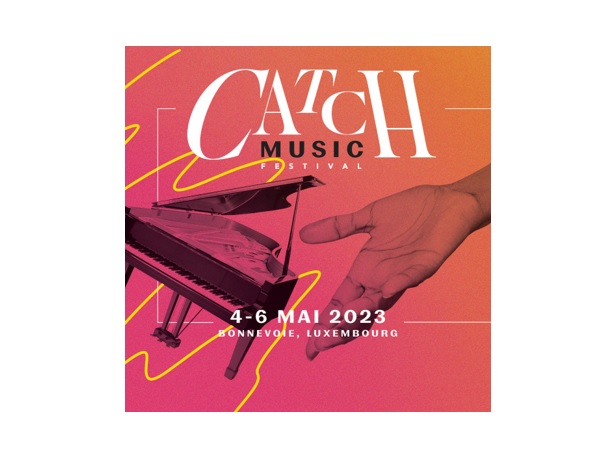 The Catch Music Fesival will taka place from 4-6 May 2023 at the Eglise Marie Reine de la Paix in Luxembourg-Bonnevoie (1 rue du Cimetière).
This music festival will feature chamber music in Luxembourg, bringing together established musicians and young emerging talents.
The artists performing include: CATHY KRIER - LAURENCE KOCH - LUC SCHILTZ - CATHERINE KONTZ - BENJAMIN KRUITHOF - ISABELLE KRUITHOF - MAX MAUSEN - ZALA KRAVOS - ANIELA STOFFELS - KAE SHIRAKI - RALPH SZIGETI - TOM FELTGEN - KELLY GE - PAMINA KASHII - GREBET - KENNY FERREIRA - MATIS GRISÒ JEAN-PAUL DIETZ - EMMANUEL TEUTSCH - CHRISTOPHE FRISCH - MIKA GIERES - ELENA NEUMANN - EMMYLOU VÄXBY - ECOLE BONNEVOIE GELLE
The festival was initiated by pianist Cathy Krier and violinist Laurence Koch with a simple philosophy: to create an inspiring and non-hierarchical experience for everyone, while encouraging the Luxembourg music scene. All generations are invited to join: connoisseurs, music lovers, curious and novices – all are welcome to share the joy of making and listening to music together.
In this spirit of conviviality and sharing, Catch@Quartier is offering a concert for the schools of Bonnevoie and a concert at the "Le Courage" social café (4 May @ 11:00; 5 May @ 14:30).
Programme:
- Thu 4 May @ 19:00
- Fri 5 May @ 19:00, 20:30
- Sat 6 May @ 19:00, 20:30
For full details, including the detailed programme, see https://www.catchmusic.lu/