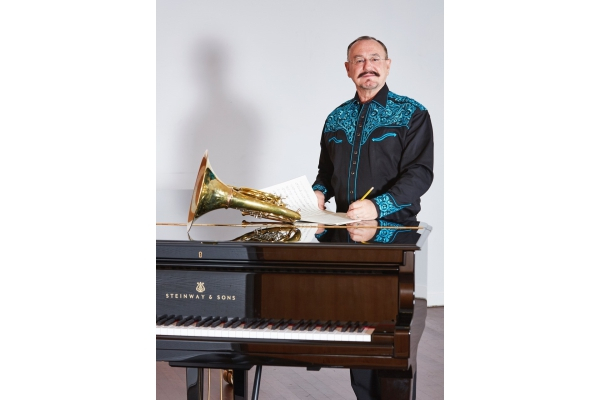 Kerry Turner; Credit: (c) Karlheinz Lamby
The horn player and composer Kerry Turner was selected by the Luxembourg jury as the composer of the musical work created on the occasion of the celebration of the birthday of His Royal Highness the Grand Duke.
The musical composition follows a festive style for a symphony orchestra and is entitled Passacaglia (strength: strings 14/12/10/8/6; 3 Htb.; 3 Fl.; 3 Cl.; 3 Bass.; 4 Horns; 3 Trp.; 3 Trb. ; 1 Tuba; 1 Harp; Timpani; 2 Perc.). Initially planned to be performed in the context of the Luxembourg's National Day in 2021, the work will finally be presented to the public on Thursday 23 June 2022 at the Luxembourg Philharmonie by the Luxembourg Philharmonic Orchestra at the opening of the official National Day ceremony.
No less than thirteen composers had responded to the call for applications launched by the Ministry of State and the Ministry of Culture in 2021. The order has a price of €5,000, excluding VAT.
Kerry Turner
Born in 1960, horn player and composer Kerry Turner is one of the biggest names not only in the world of horn but in brass in general. Whether as a composer or a horn performer, he regularly performs on major international concert stages. Some of the main ensembles with which Mr Turner has performed include the American Horn Quartet, the Virtuoso Horn Duo and the Luxembourg Philharmonic Orchestra. His activity as a concert performer with these ensembles has taken him to four continents so far. Mr Turner is also often invited as a soloist and is in great demand as a horn teacher.
Born in San Antonio, Texas, United States, Mr Turner studied in New York where he graduated from the Manhattan School of Music. He continued his studies with Herrmann Baumann at the University of Music and Drama in Stuttgart. After his studies, he won fifth place at the Geneva International Horn Competition as well as the bronze medal at the 39th Prague Spring International Music Competition.
Mr Turner's career as a songwriter has developed at immensely over the past few years. His horn works, combined with the most diverse chamber music groups, are listened to and appreciated all over the world. He has received composition commissions from numerous organisations, including the United States Air Force Heritage of America Band, the Japanese Horn Ensemble, the Richmond Virginia Chamber Music Society and the Philharmonie du Luxembourg.
Further information on Mr Turner's work is available online via: www.kerryturner.com.