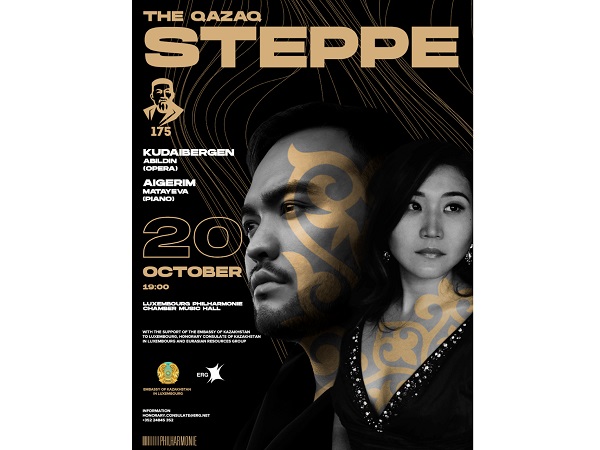 Aigul Kuspan, the Ambassador of Kazakhstan to Belgium, and Benedikt Sobotka, the Honorary Consul of Kazakhstan in Luxembourg, have announced the musical concert "The Qazaq Steppe" to be held on Tuesday 20 October 2020 at 19:00 at the Philharmonie Luxembourg's Chamber Music Hall.
The concert is dedicated to the 175th Anniversary of Abai, the great Kazakh poet, composer and philosopher. At the concert, the songs composed by Abai as well as some pieces of European music will be presented by Kazakh artists, pianist Aigerim Matayeva and opera singer Kudaibergen Abildin. The event will also showcase an exhibition of paintings devoted to Kazakhstan in the Grand Foyer of the Philharmonie Luxembourg.
Aigerim Matayeva is a young pianist from Kazakhstan. Aigerim graduated from the Kazakh National Academy of Music (Kazakhstan), the Ecole Normale de Musique (France) and the Conservatoire Régional in Paris (France). She has won a number of international piano competitions in Kazakhstan, Russia and France. Currently, Aigerim is a pianist with the "Grenade" chamber music trio and teaches at the Conservatoire Russe Alexandre Scriabine. She is also a co-chair of the Korkyt Cultural Centre in France.
Kudaibergen Abildin is a young singer from Kazakhstan. He graduated from the Kazakh National University of Arts (Kazakhstan) and the Conservatorium Maastricht (the Netherlands). Kudaibergen has won various international competitions such as the International Antonín Dvořák Singing Competition (Czech Republic), the Erkegali Rakhmadiev First International Vocal Competition (Kazakhstan) and the B.T. Shtokolov International Vocal Competition (Russia). He has given solo and chamber music concerts in Kazakhstan, Russia, Switzerland, the Netherlands, the Czech Republic, Belgium and Germany, to name but a few. Kudaibergen made his successful debut in Brussels in December 2019 as Camille de Rosillonin in Franz Lehar's "Die lustige Witwe".
Tickets for The Qazaq Steppe are available at the Philharmonie Luxembourg ticket office and via its website.