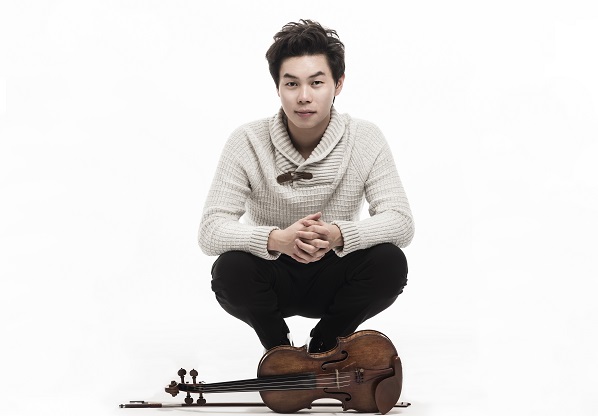 Canadian violinist Timothy Chooi, second prize winner of the 2019 Queen Elisabeth Competition, will be performing alongside the Orchestre de Chambre du Luxembourg (OCL) at CAPE Ettelbruck on Thursday 6 February 2020 at 20:00.
Since 2018, CAPE has been organising an annual concert with one of the winners of the latest edition of the Queen Elisabeth Competition, in partnership with the competition itself (Concours Musical International Reine Elisabeth de Belgique). The 2019 edition, in which 71 international participants aged 18 to 30 took part, was devoted to the violin for the 19th time. Canadian violinist Timothy Chooi, who won the second prize, will perform this Thursday at CAPE, under the direction of Corinna Niemeyer, Assistant Conductor of the Rotterdam Philharmonic Orchestra.
Timothy Chooi studied with Pinchas Zukerman, Ida Kavafian, Pamela Frank and Patinka Kopec and is currently pursuing his master's at the Juilliard School (New York) with Catherine Cho. He won the Joseph Joachim competitions in Hannover and Schadt in the United States and made an impression at the Michael Hill and Montreal competitions. He has already performed with the Orchestre symphonique de Montréal, the Malaysian Philharmonic, the Toronto Symphony Orchestra and the NDR Radiophilharmonie. With his brother Nikki, violinist and winner of the Queen Elisabeth Competition in 2012, he founded "The Chooi Brothers", an ensemble which promotes classical music in the most remote regions.
For her part, Corinna Niemeyer is currently the Assistant Conductor of the Rotterdam Philharmonic Orchestra. She works as guest conductor with the Gürzenich Orchester Köln, the Konzerthausorchester Berlin, the Orchestre Philharmonique de Strasbourg, the Yomiuri Nippon Symphony Orchestra Tokyo, the Musikkollegium Winterthur, the Nagoya Philharmonic Orchestra, the Osaka Philharmonic Orchestra, the Komische Oper Berlin and the Opéra du Rhin Strasbourg, among others. Corinna Niemeyer has also won several international orchestral competitions, particularly the Tokyo International Conducting Competition in 2015 and the Talent Adami Chef d'orchestre Paris in 2014. The young bilingual German national has similarly earned a reputation as a creative presenter and talented teacher. Always enthusiastic about sharing her passion for orchestral music, she is the artistic director of a children's orchestra (DEMOS) at the Philharmonie de Paris.
Corinne Niemeyer is a graduate of the conservatoires of Munich, Karlsruhe and Zurich University of the Arts. She also studied cello for a semester at the Shanghai Conservatory of Music. For her cross-border cultural commitment, the German Consulate General in Strasbourg awarded her the "Prix de l'amitié franco-allemande 2018".
Tickets for the concert cost €31, €15.50 for under-26s or €1.50 for Kulturpass holders. These can be reserved via tel.: 268-12681 or via email: billetterie @cape.lu. For further details, visit www.cape.lu.