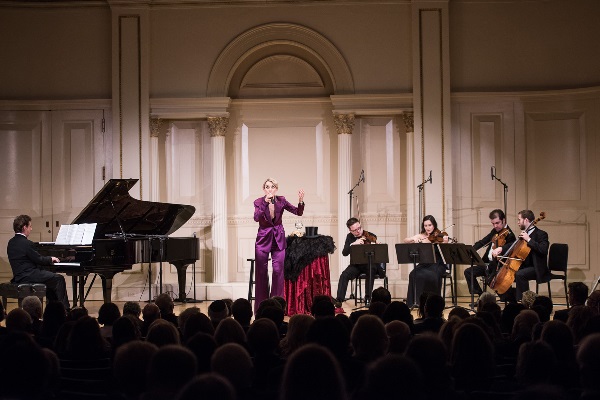 On Monday 27 January 2020, the 75th anniversary of the liberation of the Nazi concentration and extermination camp at Auschwitz-Birkenau in Poland, saw the theatre in Esch-sur-Alzette host a concert entitled "Tehorah" at which Grand Duke Henri was one of hundreds attending; the concert was organised by the MemoShoah Luxembourg and the International Holocaust Remembrance Alliance (IHRA), with the support of the Musée de la Résistance.
The commemorative concert featured music from the 1920s and some more contemporary songs, written by Jewish composers and performed in German, Hebrew and Yiddish, as well as English, by Luxembourgish-German chanteuse Adrienne Haan, accompanied by a pianist on a grand piano and 4-piece string orchestra.
It was a solemn occasion, but the almost-full theatre was treated to a magnificent concert, with Adrienne Haan's exquisite voice hitting all the right notes throughout the 90-minute concert.
With an incredible vocal range, she delivered with aplomb to the delight of the appreciative crowds. Even though the songs were in different languages and she greeted everyone at the start in multilingual tones, most of her song introductions were in English.
Towards the end, she spoke passionately for a couple of minutes and guarded everyone about the rise of right-wing politics in various countries around the world and here in Europe, and also poignantly referred to the long period of peace within the EU.