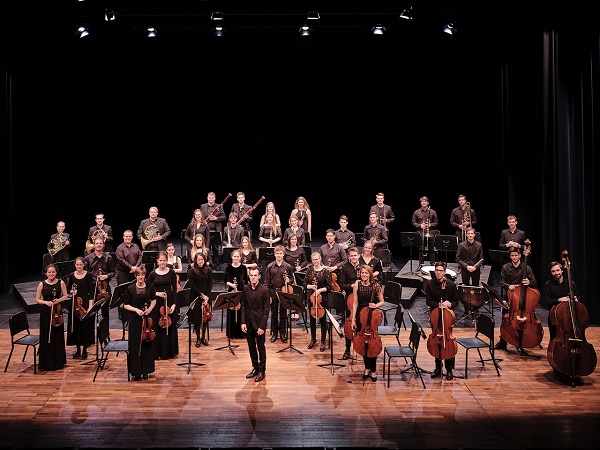 Summer Orchestra Luxembourg; Credit: © Eric Engel
The Summer Orchestra Luxembourg (SOL) has announced that it will give its ninth concert at the Mierscher Kulturhaus on 4 August 2019; "American Music" is the theme of the concert, an ode to American music of the 20th century.
Based on works by the great American composers John Adams, Aaron Copland, Charles Ives and George Gershwin, the Summer Orchestra Luxembourg, together with its conductor Pit Brosius, questions the existence of the much-discussed "American sound". With "Appalachian Spring" and "Rhapsody in Blue", two classics of modern American music are on the programme.
Together with the SOL, the Dutch pianist Wouter Bergenhuizen will take the spectators into the world of orchestral jazz of the 1920s in George Gershwin's masterpiece "Rhaposdy in Blue". Wouter Bergenhuizen knows how to convince as a young talent with a wide-ranging repertoire. The multi-faceted concert programme, peppered with musical surprises, offers talented music students from Luxembourg and all over Europe the opportunity to prove their skills once more.

The Summer Orchestra Luxembourg (SOL) was founded in 2014 by motivated music students and students with the intention of enriching the summer holiday season with an orchestra project for young talented musicians. Each project consists of an intensive rehearsal week and a final concert. The eight past projects, in which the organisational work was carried out by four students, were very well received by the young orchestra musicians.
In addition to getting to know other music students and making new friendships within the orchestra, achieving a high musical quality is an important aspect of the rehearsal week. The projects offered by the Summer Orchestra Luxembourg are considered a valuable pre-vocational experience; among other things, the orchestra is enriched by professional musicians, who like to share their experience with the young orchestra musicians.
In the 2019/20 season, the Summer Orchestra Luxembourg will be in residence at the Mierscher Kulturhaus: for the five-year anniversary of the SOL, three concerts will be offered. In addition to the Summer Concert - American Music on 4 August 2019, two more concerts will be held, on 3 November 2019: an Autumn Concert - French Music; and the Spring Concert for Ludwig van Beethoven's 250th birthday on 12 April 2020. The SOL will perform the November concert with the renowned Luxembourg violinist Sandrine Cantoreggi. In April 2020, the Luxembourg pianist Sabine Weyer will perform Beethoven's Piano Concerto No. 4.
Concert programme:
Sunday 4 August 2019 @ 19:00 @ Mierscher Kulturhaus: American Music, the Summer Orchestra Luxembourg conducted by Pit Brosius, conductor, with Wouter Bergenhuizen on piano.
John Adams: Tromba Lontana
Aaron Copland: Appalachian Spring: Suite for orchestra
Charles Ives: The Unanswered Question
George Gershwin: Rhapsody in Blue
Tickets free-of-charge from www.luxembourg-ticket.lu
Sunday 3 November 2019 @ 17:00 @ Mierscher Kulturhaus: Autumn Concert - French Music, the Summer Orchestra Luxembourg conducted by Pit Brosius, with Sandrine Cantoreggi on violin
Gabriel Fauré: Masques et Bergamasques, ouverture
Claude Debussy: Prélude à l'après-midi d'un faune
Camille Saint-Saëns: Introduction et Rondo Capriccioso
Maurice Ravel: Tzigane
Maurice Ravel: Ma Mère l'Oye, suite
Sunday 12 April 2020 @ 17:00 @ Mierscher Kulturhaus: Ludwig van Beethoven's 250th birthday, the Summer Orchestra Luxembourg conducted by Pit Brosius, with Sabine Weyer on keyboards
Ludwig van Beethoven: Klavierkonzert Nr. 4 op. 58
Ludwig van Beethoven: Sinfonie Nr. 7 op. 92