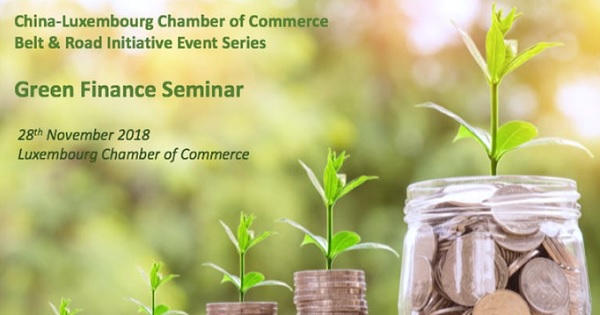 The China-Luxembourg Chamber of Commerce (ChinaLux) has announced that it will be holding a Green Finance Seminar on China's Belt and Road Initiative on Wednesday 28 November 2018 from 10:00 at the Luxembourg Chamber of Commerce (7 rue Alcide de Gasperi, Luxembourg-Kirchberg)
This event will be the fifth event of the Chinalux series on China's Belt & Road initiative. It will take a "deep-dive" into the opportunities and experiences in the hot topic "Green finance", taking a specific look at the role of different Luxembourg finance industry players under the initiative.
Event Agenda:

10:00-10:30: Registration
10:30-12:15: Speeches and Panel Discussion
• Opening remarks: Dirk DEWITTE, President of Chinalux
• Expert presentation - "China: from red to green": Professor Mr. Bo JI, Assistant Dean of Global Executive Education & Chief Representative for Europe at Cheung Kong Graduate School of Business. Professor JI had an over-20-year successful business career in Global Business Development, Innovation, Strategy, Supply Chain Management, M&A, etc. He served as the senior management at the headquarters of many fortune 500 companies such as Monsanto, Cargill, Pfizer, Wrigley and Mars. He is also a frequent speaker at renowned international conferences, forums, TV media and annual corporate meetings.
• Panel Discussion on Green and Sustainable Finance: Luxembourg and China, with Moderator Sascha Bremer, Adviser, Business Development, Luxembourg for Finance, plus speakers: Robert SCHARFE, CEO of Luxembourg Stock Exchange; Fei CHEN, Chairman of ICBC Europe; Nicki KAYSER, Partner, Linklaters; Fabio MANDORINO, Advisor, ABBL
12:15: Networking Walking Lunch
Due to venue capacity, priority will be given to ChinaLux's members.
Free-of-charge. To register, click
here
.