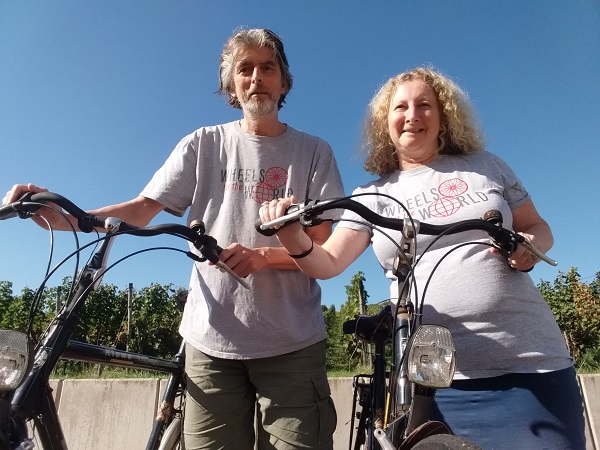 Credit: Wheels for the World
On Sunday 17 September 2023, the couple Marelle Hart, Europe Development Liaison at Save One Life, and Anton Roodhuijzen, raised €1,640 through their sponsored bicycle tour along the river Moselle for Save One Life (SOL), an organisation which supports people with blood disorders in developing countries.
For the fourth year in a row, the sponsored bicycle tour Wheels for the World came to Luxembourg and cycled along the river Moselle, from Wasserbillig to Remich and back, for about 60 km in total.
This race aims to raise money for people with haemophilia and other bleeding disorders worldwide. The collected funds will be divided between the US-based non-profit organisation SOL and the Association Luxembourgeoise des Hémophiles (ALH).
SOL aims to help people financially through sponsorships, scholarships, micro-enterprise grants and camp funds, whilst also distributing medication (which needs to be intravenously injected). Anton and Marelle are the parents of two boys with severe haemophilia. Both are now teenagers and doing relatively well. However, the family is aware of how debilitating this condition would be in a developing country where medicine is not suitably available. The family, originally from the Netherlands, has lived around Luxembourg since 2006.
The inherited bleeding disorder haemophilia, whereby the blood does not clot properly, causes internal bleedings into joints and muscles, which can be very painful and crippling. Furthermore, the disease can also cause bleedings into vital organs. Other bleeding disorders are the Von Willebrand Disease, Glanzmann Disease and rare factor deficiencies, with similar symptoms.
The couple expressed their pride at having raised this amount of money, but added that the fight to help people with bleeding disorders is not over yet. Anyone still wanting to sponsor Marelle and Anton can do so until 4 November 2023 at: https://saveonelife.net/wheels-for-the-world.